As some of my fellow students are drowning the Frozen-Yoghurt-Shop "fröhlich" in a flood of overwhelming compliments, it looks like I am the devil of the story.
To be honest, I am playing in the team of the "Eiswerkstatt"-lovers. BUT (index finger up) – those new pictures of the fröhlich-bubblewaffles made me curious – reeeeally curious. On Facebook they show pictures like these:
Day by day, picture by picture, I got more and more excited. This must be the next step of already heavenly delicious Frozen Yoghurts – I thought. So I gave it a try. Well, check it out for yourself: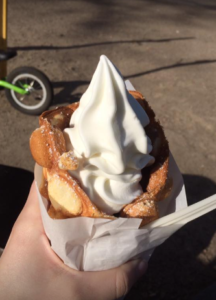 Not kidding – this is my Frozen Yoghurt in a bubble waffle with three different kinds of TOPping. Probably, you're all wondering where my toppings are. Now here comes the punch line: They are underneath my ice cream.
That means I had to eat all the Frozen Yoghurt first, as the unstable waffle-construction made it impossible to catch any chocolate-koalas, raspberries or at least the sauce. The bubble waffle was fröhlich's last chance to convince a demanding gourmet like me … and they failed. Afflicted by the topping-disaster, the waffle had a hard job to do, but it was just not that experience of an eyes-closing enjoyment that I expected.
I really hope that I have been an individual case. At least a friend of mine had a great time with her bubble waffle last week, what is impossible to ignore seeing her face in joyful expectation.