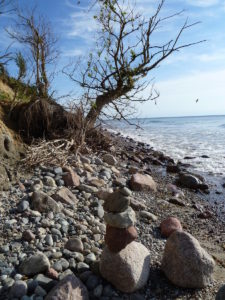 The weather is starting to get better — even the sun is back in Rostock (sometimes). Perfect time to start doing more outdoor stuff again. As it can be still very windy up at the baltic sea in Warnemünde and therefore challenging to even make the walk up to the lighthouse at times (this walk can also get a bit repetitive after doing it couple of dozen times), you might start looking for some nice destinations close by to get out of town for a day on the weekend.
One of my favourite weekend getaways is Wustrow. It's a nice little village on Darß which has a lot of charming cafés, beautiful old wooden beam frame houses and a long beach. It's also located at the most narrow section of the peninsula — so you actually have the Baltic sea to the West of the town and the Saalter Bodden to the East. But that's not all: If you take a walk along the beach, you can walk all the way to Ahrenshoop along the steep coast and enjoy the lovely views on the sea and the unique scenery of the drawn-out slim beach along the  coastline.
Once in Ahrenshoop, which is famous for its artisans, you can take a break, look at some nice handcraftship and relax from the hike. This walk only takes about an hour and gives you enough time to enjoy the villages and the wonderful surroundings. You can go to Wustrow either by car (about 50 minutes) or by train and bus.