This April I took a spontaneous one-day-trip to Stralsund. One morning friends of mine were calling me up saying they parked in front of my apartment with a full picnic basket and wanted to drive to Stralsund.
Right. My exact thought as well. What is Stralsund?!
I didn't know what to quickly grab. Do I need a bathing suit? Do I need my credit card? What is happening?
So I just grabbed my purse and ran down to the car. We were 5 friends that were not from Mecklenburg-Vorpommern, not from the East of Germany; basically we had no idea what to expect from Stralsund. I quickly checked google and learned Stralsund is actually a little town at the east-coast of Germany with approximately 57,000 people living there.
We needed about an hour from Rostock to Stralsund and as soon as we arrived we immediately knew we were in a little harbor town. Everything seemed so cozy and welcoming, it reminded me of the little town my grandparents used to live in. We quickly found a parking spot near the museum and didn't even had to pay for a parking because the parking lot was free on Sundays. We were lucky and had sunny weather in May — in Germany!
Stralsund is an old city with many restored historical buildings.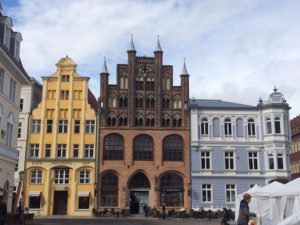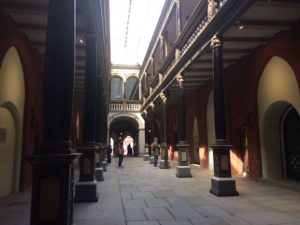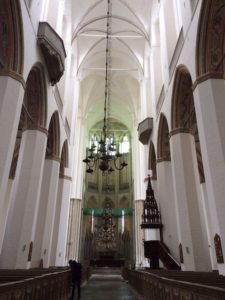 We found the tourist office in the city center and got handed a city map. There, a nice guide told us which route she would recommend us and we went off to explore the city. Unfortunately, the city hall was renovated at the time but even under construction it looked impressive. We went along the still partly intact town-wall around the city. The sights were captivating. The recommended route took us about 1 1/2 hours tops.
After we found we had seen everything there is worth seeing, we went down to the harbor to put out our picnic blanket and snacks. We enjoyed the afternoon sun looking at Rügen in the distance, the museum behind us.
After we were done we packed our bags and set off to find our car and drive back to Rostock.
The whole trip was a nice little getaway day trip I would warmly recommend.
Just don't make the mistake going while it rains.