What's something that comes to mind when you think of fun you've had as a kid? Okay, besides puzzles, GameBoys and watching TV. The most fun kids can have while OUTSIDE, at least in my experience: going sledding. The rush of going down a snowy hill and running around with your friends is one of the best parts a German winter can offer.
So why go without the fun once the summer sun has done away with the snow? As kids, my parents used to often take my brother and me to the Summer Sled Run in Malchow. We would invite some friends and, at a very young age only with my dad on the sled as well, later all by ourselves, zoom down the tracks on the hill. It's especially fun because the kids can control the speed by themselves with a control stick, without bringing anyone in danger – or risking a speeding ticket. We could hardly get enough and kept running back up the hill to have another go at the sledding parcour, as we thought of it. Enjoy this picture of me on a sled racing down the Malchow hill: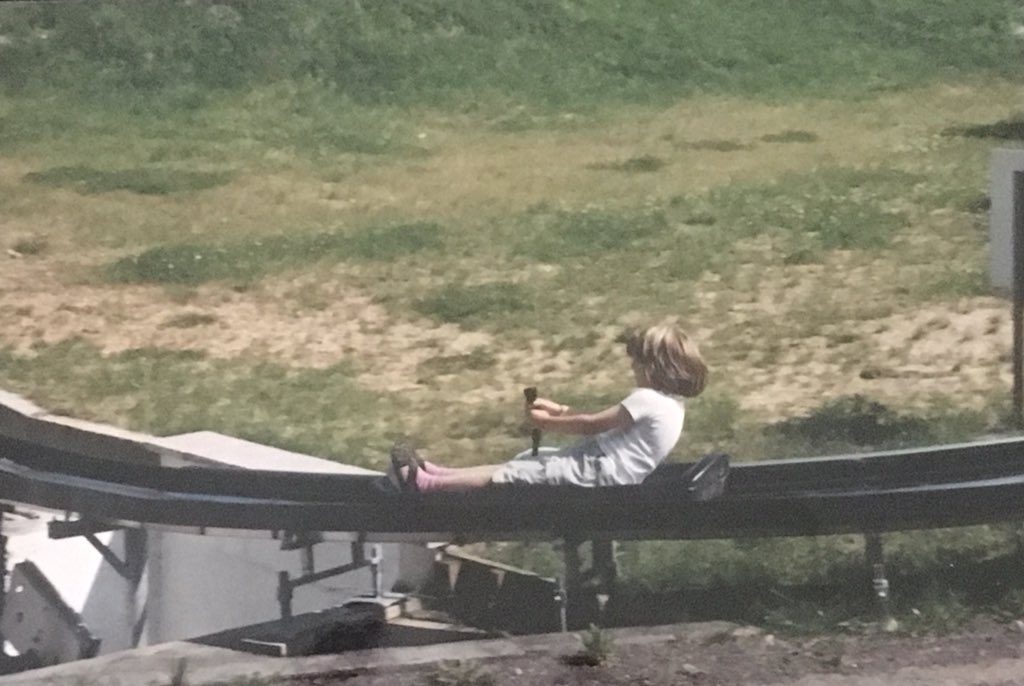 (my photo)
The price per go for children aged between 3 and 14 is €2, and for adults €2.50, and there are several group prices as well for when you plan a longer stay. The sled run is open from April through to October so you don't have to go the (more or less) warm months of the year without your sledding adventures. Us kids especially enjoyed the little kiosks that are on site to take a break from the fun with a hot cocoa or an ice lolly.
An added attraction at the Malchow location is the "Monkey Forest," so a sort of mini zoo where you walk on a path between monkey pens in style of a forest. You can get relatively close to them if you don't stay right in the middle of the path – but be careful! They have no qualms about taking your ice cream, glasses or cameras right out of your hands. That would be an additional price to pay, on top of the €5 (or €4 for children 3—14 years of age) entrance fee. Here you can also get group prices, so grab some friends and enjoy!
Now, I wouldn't say the Summer Sled Run is only fun for children (although childhood-me did have a blast), but I'm sure your university friends or the people you're on holiday with would enjoy the silly fun just as much.
And if you can't get to the Malchow one I talked about, Bad Doberan and Burg Stargard have Summer Sled Runs as well. But I'm afraid if you want to pay the monkeys a visit, you'll have to go to Malchow after all.
Malchow:
Bad Doberan:
Burg Stargard: