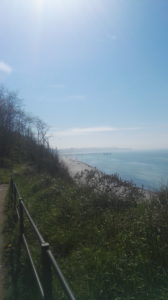 Only a one hour car drive from Rostock away, you will find one of the most fascinating views in Mecklenburg-Vorpommern. Rerik, a small and beautiful town is located in between the Baltic Sea and a small bodden called "Salzhaff". If you are standing on the smallest part of the spit and turn your head, you can see both at the same time. In summer, you can rent all kinds of little boats, under the premise you can provide a valid boating license. If not, you are still able to have fun on the water with friends and family renting a paddleboat. If you are more into being IN the water, rather than ON it, you can of course take a swim in the Baltic Sea. In front of the pier, the ground is sandy and the water is slowly getting deeper, so this might be your beach of choice when travelling with little kids.
A little further on the right hand side of the pier, a huge, overgrown coastal cliff starts and the beach itself starts to get a little rocky. You can collect some flint stones for necklaces and if you are lucky, you might also find one or two interesting fossils of seashells to take home! Those make a gorgeous souvenir and they are absolutely free.
Stairs are leading the way from the beach up to the high cliff. Up there, take a minute to enjoy the view that is offered to you.
Now, you can take one of the hiking paths to the left side pointed out to explore more of the Baltic coast. Or you decide to take a stroll through the city going straight forward.
Either way, I am sure Rerik will amaze you and I would advise to stay longer than a day. If only for the evening stroll on the pier, watching the sun drop into the sea.
If you are interested in more in depth information, here is a link to the official site of the town.