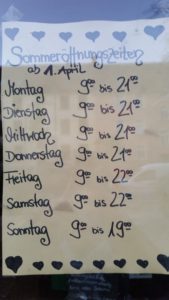 My latest discovery of pocket friendly cafes in Rostock, namely Café M , might be relatively easy to overlook, but if you ask me, absolutely worth a visit.
It's situated near the campus of the University of Rostock, a 5 minute walk from the stop "Parkstraße" (S1, Bus 25,27, Tram 3,6) . From the outside I find it looking like the small looking insider kind of café, where you expect to find many frequenters. It gave me a cosy feeling and appears really well and organized. Also with a cosy space and seats outside for summer.
What's special?
Well, firstly they serve everything a real night owl needs: marvelous looking cocktails, warm stuffing food and little lovely snacks. The meals are home-made and have a good cost-size relation in, my opinion. For example, the "Hamburger Schnitzel" is relatively large and absolutely enough to stuff ones stomack – €7,90 is a fair prize if you ask me.
Their hoemeade soups are between €4,00  and €5,00, which can be called the lower prize level, as far as I know.
Therefore, it's perfect for us students, as Cafe M offers its large selection of alcoholic and non alcoholic drinks for also very fair prizes. Of course, many Pubs, Cafés and also Clubs in Rostock are glowing with their – seen through the eye of real Berliner- student-friendly prize level but what is real unique about this cute café is, that students cook for students here. It's family owned and eating there makes me feeling more like being served plain fare by a friend.
My Cafe M highlight: the freshly made Ice Tea which is served with fresh mint.It's truly worth trying. Flavour can be choosen between elder or pommgranate and you can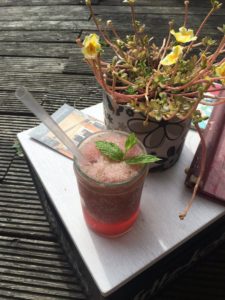 have it as cocktail ,too. (pssst…that means with alcohol) It costs around €3,50 the virgin version.
– I loved it! …perfect for warm days.
And for not so warm days you can choose from one of the spacial coffes with – somewhat – whatever flavour you like.(vanilla, caramell, hazelnut, chocolate and many more)
On top of all that : The staff is friendly, mostly students, and make you feel welcome.
Try it! Impossible to be disappointed, if you ask me 😉