Nope, I really can´t help myself. You know I tried to skip sugar for quite a while now but when it comes to cakes, pies and all others of these little devilish pieces of heaven…this is actually quite a hard one. While I´m enduring my misery I thought why not giving you some advice where to find some great addresses to get a baked miracle. (I had "leap of cake" so to say ;))
Have you ever tried a desert called "Franzbrötchen"? The best word to describe it would be supercalifragilisticexpialidocious. Though the recipe is originally from Hamburg, you can access it everywhere in the city thanks to a bakery chain named "Stadtbäckerei Junge". They have lots of nice food and drinks even if the prices are a bit higher than elsewhere. Don´t get me wrong, I´m not promoting them to you but you have to seriously try a Franzbrötchen when you´re here. You can choose between three sorts: sugar & cinnamon, marzipan or chocolate, the basic dough is a unique mixture of puff pastry and yeast dough. My personal favourite is the first one though everybody has to choose for him- or herself. 😉
If you´re looking for a more special location you s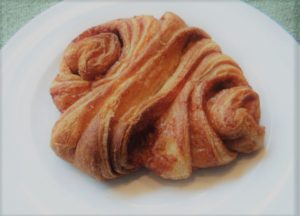 hould make your way down to the Östliche Altstadt. There is a lovely little shop and café named "Törtcheneck". The pastries there are all handmade and absolutely delicious. The interior furnishing is very cute and when you enter the store you feel immediately rosy and lovely. 😉 The best thing is that you can also order handmade cakes for special birthdays, parties and other festivities.
Just across the street is another favourite café of mine. The "A Rebours" wins its visitors with an enchanting "shabby chic" that normally just awaits you in your French grandmothers living room. The sofas are quite old and extremely comfy which makes the taste of your coffee and a piece of homemade flan even better.
My next spot to check out leads us back to the area between Doberaner Platz and the city centre. A few years ago, a little bakery named "Brotzeit" opened and what they do is pure magic. The cakes look absolutely stunning and are decorated in the most beautiful way – they even sparkle! And the taste will convince you completely – they combine sweets and fruits very successfully to develop a mesmerizing taste. It costs a bit more than the average but it is definitely worth it.
Last but not least, let me take you to the lovely Baltic Sea and a true veteran on its coast – the "Neptun Hotel". When you see it you may think it is way too expensive and reserved only to the wealthier people. But this is an opportunity to you to experience their services without having to pay a fortune. Even if you just enjoy a simple cup of coffee there, the cake cart is always filled with very tasty examples of that kind. Take the elevator up to the "Café Panorama" and enjoy the unique view over the beach in comfortable armchairs.
I hope this will help you to find the most beautiful "cake-places", maybe even more and different ones, in this beautiful city.
See you soon! 🙂