Using the motto "Once around the world" and other cool slogans, the Street food Festival last weekend was a complete success. From the 15th of April to the 17th of April the Street Food Festival took place in Rostock for the first time.
They chose the IGA Park as a location, in my view, a good choice. The IGA Park is located directly on the Warnow River with wonderful views over the water and many boats. It's a dream! Unfortunately, when I was there the North German weather hit hard. For us, the real "fish heads", as Bavarians like to call us, it doesn't matter. We are okay with the rainy windy muddy weather. But the weather made no difference. The festival was fantastic.
Very special meals from all over the world were offered. Moroccan, Gambian, American, British, Swedish and Spanish fancy and gourmet foods only are examples of the diversity of the stands at the IGA Park. Each stand represents their nationality and the typical foods of their countries. You had the chance to try very different specialties to taste the world! Seriously, it was sooooo delicious! Sadly my stomach was too small to try everything, as well as my purse. Therefore many stands had little portions to try their food. Some international cooks explained the portions to understand how they prepare it, which spices they use and what are the reasons to do it in their own ways. We learned a lot about the different nationalities.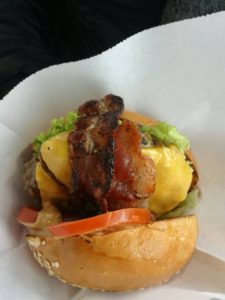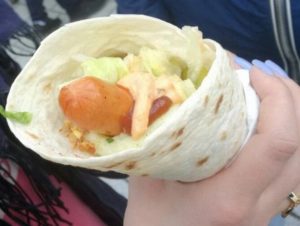 Another cool aspect was that Facebook drew some coupons for a value of up to 20 euro to enjoy the festival without financial sorrows. I also participated in the competition but I didn't win any coupon.
In the next months, the Street Food Festival will change the cities in MV to present their range. You really have to consider to visit the Festival!
Next stops in MV:
12th May 2017 Greifswald

2th June 2017 Schwerin

21th July 2017 Neubrandenburg