For those among you, who are seeking a little peace & silence and – maybe more important – a beautiful alternative to getting sunburn at overcrowded beaches of the Baltic See, I want to introduce the Müritz to you.
Never heard of it?
Well,… good for you then 😉
It might not be the most famous place in Mecklenburg Vorpommern (I prefer to say MV), which happens to be a real advantage for all those who go there to avoid the assembly points of mass tourism.
The Müritz is a lake that belongs to a whole group of lakes in an area called Mecklenburger Seenplatte in northern Germany. It lies in the South-East of our beautiful land and is by the way the biggest lake as well as the largest national park area in Germany.So might be worth seeing.
Absorbing Nature in Klink
Short guide to your advaenture in nature: go sailing and visit one or two of the illaged by the kale,, search a  nice place on the lakeside for camping , have a barbecue and a warming fire to sit by and spend a night or two there.
A good place to start your advanture is in my opinion  a place called Klink, as it offers differnet oppotunities to discover the area. It has a little beautiful, natural beach for hot days (which is perfect for children, beacause the bank is flat an water is heating early) and a medium-sized port where hobby -sailors and yacht-owners house their boats.  There is a long promenade along the lakeside accompanied by a sports field for soccer and basketball.
Arriving in Klink you are greeted by a very friendly family running the port office. This might for good reasons be your first place to sit down, by an ice cream and mentally arrive in this silent idyll. They also offer smoked fish, directly from the lake.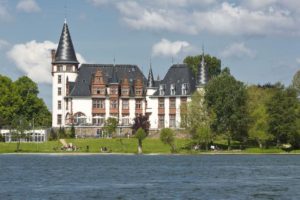 An extensive walk to the old "Mürtz Klinik" will make you absorb a bit more of it, if you don't mind meeting some old people who might come across your way. Near the port there's the real nice "Schlosshotel", where you can have excellent brunch, lunch, or dinner depending on further your Plans.
Action for all Boat Lovers
Secondly, I always enjoyed our sailing trips ON the Müritz. To cross the lake by boat might be the most interesting way to discover the area for all Captains among you. Just train your sailing-skills or cruise around with a motorised one independently. If weather is good, rent a boat and go for it.  I strongly recommend a trip to Röbel and not to miss the obligatory "Fischbrötchen"!
Of course all the other villages around are worth seeing, too, but unfortunately the day only has 24hours. If you have more than two days and don't want to spent too much money on a place to sleep – what about wild Camping? It is very common and legal to camp on the lakeside, having a barbecue and music in the evenings to finish a wonderful day.
But be careful: There are special protected landscapes that musn't be entered. Easily to identify because cows are watching over them- and of course the large Signs saying: "Protected area- anchoring and trespassing prohibited". If you stay overnight, don't forget to get some things to eat for barbecue and breakfast the following day.
This can be done in Röbel for example, where directly near the port you can find a supermarket which has slightly higher prices than the ones in bigger tows. So if you have the possibility to stay more than one day, by the stuff in advance and enjoy the absolutely affordable independent Müritz – Adventure.
Cyclists Welcome
If you are not the sailing kind of type, it's recommendable to rent a bike and go around by bike. Those of you, who have more than one day, can find a lot of Bed& Breakfast accommodations along the Müritz lakeside. But in summer it might be a little difficult to find one that is vacant and affordable, so it's worth checking out availability before, in case you didn't plan to sleep in a tent anyway and do it the individual way.
How to get there?
The motorway A19 goes dirctly from Rostock to Berlin. Taking it in direction Berlin, after about 45 minutes you'll meet the exit called "Waren/Müritz", which is in construction work at the momet but neertheless open. From there it is only about following the signs leeding to Klink.
Whatch out! – Speed Camera.
Speed limit when driving through the site is 40 and they will find ot if you don't stick to it 😉
Those of you who are not by car, hae a look at BlaBlaCar (here you need to register and hae a Paypal account) or Bessermitfahren (for free and without registering) where yo will nearly alsways find nce people that go in that direction or even near Klink, Röbel or Waren.
Enjoy 🙂