Spring has finally arrived! Well, we're still in Rostock, and bad weather still happens quite frequently, but sunny days are on their way! So there's no rain (or snow), not as many clouds in the sky, and the sun is shining (there's no way avoiding the wind though, I'm sorry for that, that's just how it is here): what can you do? Go to a park of course!
I always like going to parks, being in contact with nature, despite being in a city, and Rostock has quite a lot of choice for that! So which park would I recommend in Rostock?
Well, if you're already in the city near Kröpeliner Tor, and you've already done a bit of the classic sightseeing, why not go to Wallanlagen? Just outside the city walls, it's a small quaint park right in the city centre, and its numerous paths all intertwined makes it feel a like a maze (I have already got a bit lost inside, luckily it's not that big!). It also has a pond and over-grown plants all over the place so it really feels quite magical! And when the sun is out, it is a really gorgeous sight.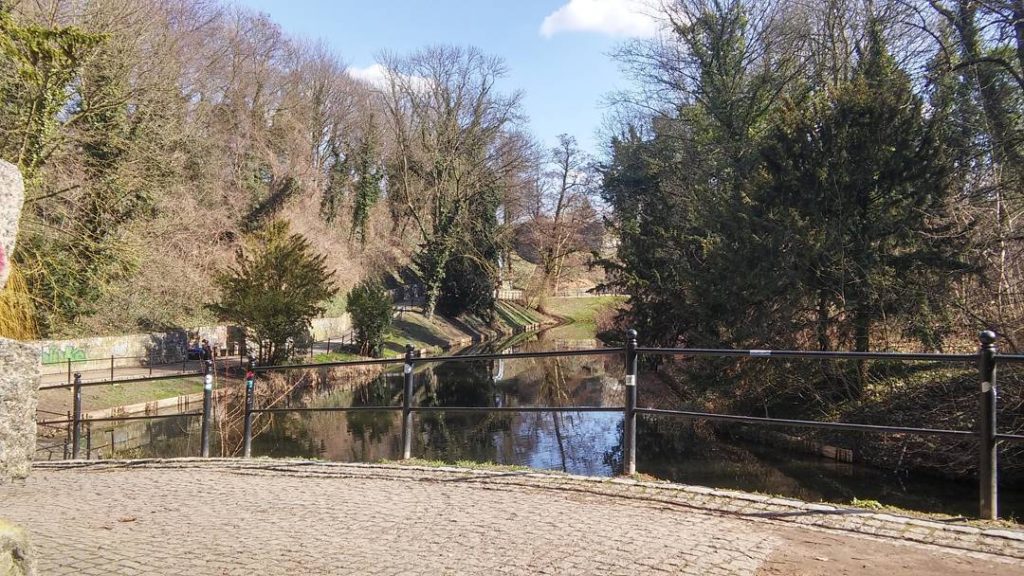 It is a nice place to be away from the "Kröpeliner Straße" that can be quite busy and somewhat stressful (especially as the streets have been full of stands for the Easter market recently). It's the perfect place to sit on a bench, read, meditate, or anything that calms you down – just admiring the view does it for me personally. And despite it being right in the city centre, few people actually seem to go there, and I always have this calming feeling when I go through its winding paths, surrounded by greenery.
And though I think that during Spring and Summer is the perfect time to go through this park, when the leaves are on the trees and flowers start to appear, it is always quite nice to go around in Autumn and Winter, the lack of daylight and leaves on the trees makes the park seem quite grey: the goth teenager that I once was would quite enjoy it! But as you should always do at that time of year in Rostock: don't forget to wear a warm coat!