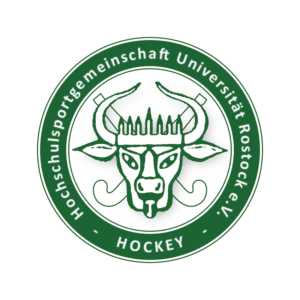 Did you know you can play Hockey in Rostock? I mean real Hockey – not Ice Hockey or Floor Hockey – but real Hockey that has been played since the 19th century.
Here in Rostock, we have a fun little sports club called "HSG Uni Rostock". We have a youth team with age ranges of 6 to 14 and a women's team for 15 and above, as well as a senior team that plays on Wednesdays for fun.
Unfortunately, we don't play in big stadia but our fan club makes it feel like it every time we play a home match.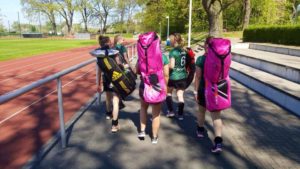 Our teams are always looking for enthusiastic people that want to give Hockey a shot. It is a great stress reliever (like any sport) but with the extra rough play (unavoidable in Hockey) you really get to let off steam in a save enviroment. 
After a successful training session you can trust on your teammates to be up for anything (bar, club or beach) you don't just play together but you PLAY together. At our sports club, you can trust on having a good time and making new friends.
In the summer we sometimes play "beach hockey" as well – we meet at the Neptun Hotel and find a nice spot at the beach to put up our goals, and off we goes – we play an exhausting game of "beach hockey" and jump into the sea afterwards.
In the winter months from October to March, we play Indoor Hockey. It's a lot faster thanks to the boards, and many goals can be scored very quickly.
Now you may want to know where to find us, of course! On Mondays and Thursdays the women's team trains from 6 p.m. to 8 p.m. The younger team trains on Tuesdays and Thursday from 4.30 p.m. to 6 p.m., both at the sports field in Lütten-Klein (Danziger Str. 45c).
We hope we see you soon!
Your Rostocker Hockey Team
(The best team in Meck Pomm)