After you're stuffed with delicacies and colorful goodies from the Easter weekend, Easter Monday is usually the transition period into normal life. If you don't give a damn about nerve-racking diets and just want to enjoy life, there is no more satisfying way than doing it with an extensive binge.
The restaurant "Carls" won't disappoint you, I swear. It is located in the heart of Warnemünde, the more noble quarter of Rostock crossed by streets full of mansions, a beautiful and clean promenade and ocean breeze. Carls' atmosphere is warm and cozy: The backroom looks like a big cigar room in an elegant design with indirect lightning and has a small terrace for warm summer days.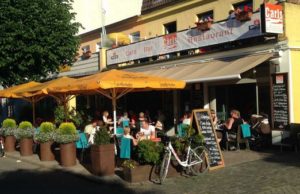 This Easter Monday we got the perfect seat for the exclusive Easter brunch – we had a great view over the whole buffet and couldn't miss a single move of the cook bringing new delicious looking stuff, like freshly baked croissants or the juicy Schweinebraten (roast pork) – try the gravy! Yummy! I also recommend the fish tatar topped on Pumpernickel-bread, a typical kind of German bread. Warm bread rolls, cheese platters, hearty cold meats, homemade jams, regional fish dishes and fresh fruit platters. Everyone will find something for their culinary pleasure. After two or three or four … increasingly slow walks to the buffet, you will not get around the bittersweet temptation of desserts: chocolate mousse mixed with cookie dough, different German cakes or yoghurt cream neatly served in a little eggshell for that real traditional Easter feeling. Everything is well chosen. The same applies for the drinks. It is like visiting an old friend who wants you to feel comfortable and supplies just the best.
The prices are on good average: brunch for 20 euros per person including coffee and a glas of prosecco. Another tip: Try lunch during the week! The dishes are reeeeeally good and cost you only 5-7 euros.