When you visit Rostock and take a stroll through the most popular shopping street "Lange Straße" in the city centre, it's easy to find the big and commercial book stores that are well known all over Germany. And I don't want to talk them down in any way! You can spend a whole afternoon looking through all the shelves and you have the chance to sit down and have a nice cup of coffee or even a full meal if you're exhausted after an excessive shopping spree.
But if you want a slightly more unique and charming literary experience you should definitely continue reading! I present you four bookish places in Rostock that you will long remember plus they are all located in interesting surroundings you can easily reach and explore.
"buch…bar"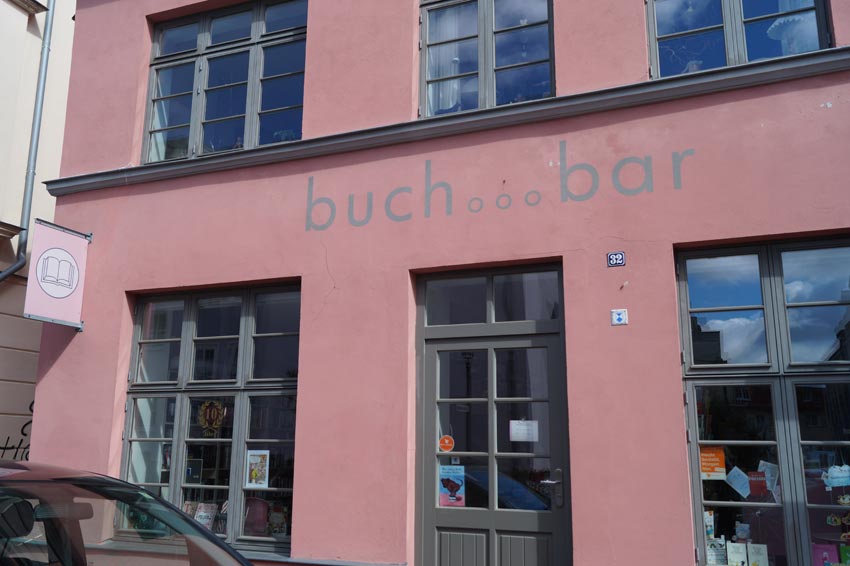 When you wander through the bumpy streets of Rostock's old quarter you can find a bunch of small restaurants and cafes situated in colourful, old houses. In one of these houses – it might seem a bit inconspicuous between all the other buildings even though it is painted in a beautiful mauve tone – is a small book shop called "buch…bar". It provides only a small and selective range of books but the size doesn't make it less worth seeing. The teeny-weeny salesroom is furnished in a kind of girly way with white shelves, wooden floor and baby pink walls. Sometimes I personally don't like the overcrowded book stores in the city centre so this store is a calm and restful place to enjoy books without other people blocking the shelves. On top of this you have plenty of time to talk to the bookseller asking for help or even for some advice what you could do in Rostock.
address: Altschmiedestraße 35, 18055 Rostock
"andere buchhandlung"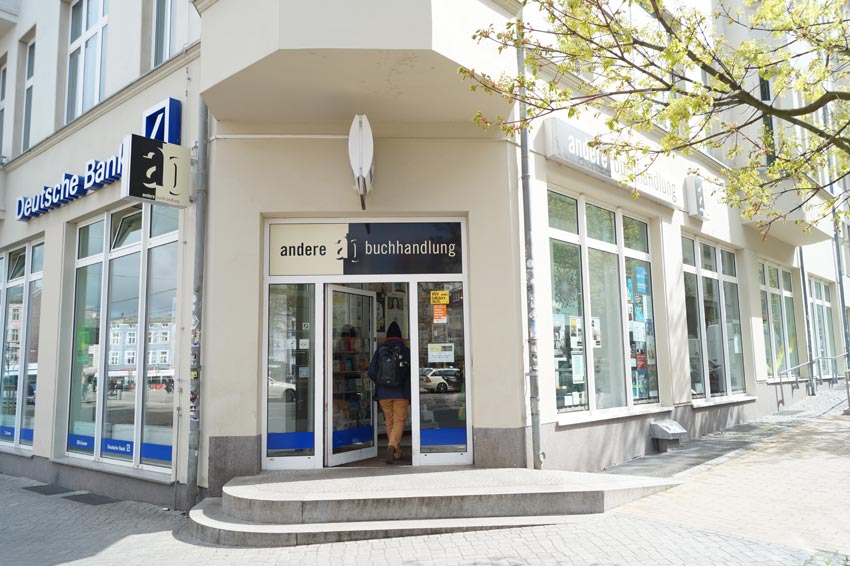 This book store might be a bit easier to find but still not on the first glance. I have been living in Rostock for almost 22 years now and I only learned about this store when I was around the age of 18!!! So it might be a good idea to tell you a bit more about it so you won't miss it. This store is twice as big as "buch…bar" and offers a huge variety of books – including English books. It is located at the corner of a house at the "Doberaner Platz" near to the city centre. Every time I enter the shop I immediately feel comfortable even though the appearance of the room seems to be nothing very special. But the wooden shelves give you kind of a homelike and warm feeling. So if you neither like crowds of people nor being alone with the bookseller, this would be your option.
address: Wismarsche Straße 6/7, 18057 Rostock
"Herr Koreander"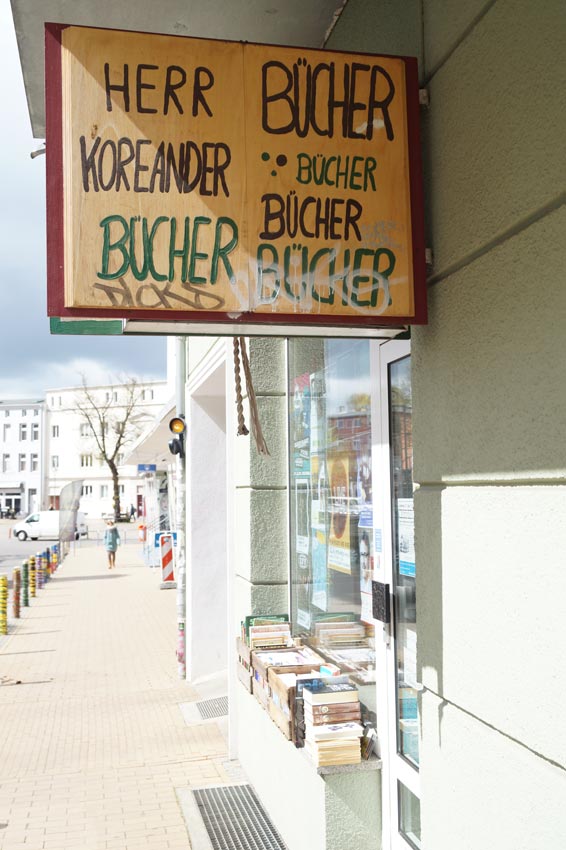 "Herr Koreander" is named after the grumpy old antiquarian bookseller in the book "The Neverending Story". But unlike Mr. Coreander, the bookseller in this shop is the most friendly person on earth. She's very courteous and always happy to help. If you're looking for secondhand or antiquarian books you should give this shop a try and enjoy to be surrounded by the smell of old books and yellowed pages. It is located in the "Barnstorfer Weg", a street that is packed with little shops, cafes and restaurants. Right next to "Herr Koreander" you can find a very recommendable wine merchant who is not the stereotypical snobbish person, but a cool guy who would love to help you with your choice. Maybe you should treat yourself first with a good book, then with a delicious wine and spend a cosy evening in your hotel room, at the city port or even on the beach.
address: Barnstorfer Weg 24, 18057 Rostock
"Bücherbüxe"
Let's pretend you didn't buy a book at "Herr Koreander" but nevertheless you go to the beach in Warnemünde. You spread your beach towel and take a sunbath. After a while you get bored and want something to read – but unfortunately you forgot to take a book with you! In this case you should go straight to the "Bücherbüxe" in the "Kurgarten". It's just a little walk from the beach. But don't expect a book shop – you will only find a column with small shelf-like compartments filled with secondhand books. And best of all – they're free! "Bücherbüxe" works on the base of a take-and-give-principle. You can put old books in which you don't need anymore and take others with you. If you don't find any book that you like, that's okay. Just be proud of yourself for doing something charitable. But what if you want to take books but have none to put in in exchange? No problem! It's completely fine when you take some without replacing them by others. And it works! There are always plenty of books to choose from – and sometimes you can even find some really good literary treasures!
location: "Kurgarten" in Warnemünde, embedded between "Wachtlerstraße" and "Heinrich-Heine-Straße"