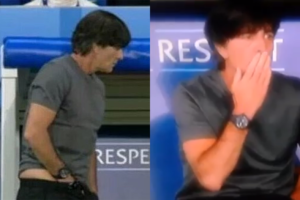 So there I was, excited about watching the international football game of Germany at the OSPA in Rostock. Then, in an epiphany,I could read the manager's thoughts:
Leading against Slovakia – Check, Made the right decision to start Draxler – Check; Looks like we'll be quarterfinals – Check; Does my hair still look great? – Check; Armpits ? Still smell like victory – Che.. – Oh crap, again?! Why always me?
Joachim Löw does not only manage the German national soccer team, he also manages to get completely lost in the game, forgetting everything about his environment, forgetting about all the cameras, forgetting about millions of people watching, forgetting about not being disgusting.
Since Jogi is serial smeller, everything is heading into a very sad direction. It is very likely that he will be fired and loose his job – as a nivea model.
Sad news for Jogi, great news for you: looks like there is going to be a vacancy.
So how to be Germany's next top nivea model? You might get some tipps from her, but believe me, she is as trustworthy as the British pound right now.
Instead, listen to me. I will be there for you; I will advise you; I will answer your questions; I will get you the job.
Ok, you've waited long enough. Here are my three tipps for you:
1. Talk with a strong accent, maybe "Schwäbisch" is part of your German skills
2. Be confident, maybe even smell like it
3. Have a friend who always wears the same clothes as you
"Check" on all three of them? Then start applying. Good look, and may you always smell great.
Apply here:
http://www.annabelle.ch/beauty/haarefrisuren/annabelle-nivea-suchen-cover-models-8546