It's a hot summer evening. A friend and I sit outside at Margaretenplatz to have a cold beer. A gentle summer breeze is in the air. We talk for hours, and when our beers are empty, the clock strikes ten. Damn, every supermarket is closed – except for REWE near Doberaner Platz. We could go to REWE and get another warm beer there or we could go to Best Kebap and pay a lot of money for a cold Rostocker Pils. I love Rostock, but I do not love Rostocker Pils. Both of these options are out of the question. I look at my friend. He looks at me. "Thao!", we shout almost simultaneously.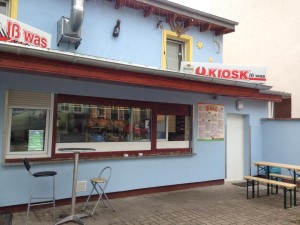 Thao is the owner of "Iß was", a small kiosk in Margaretenstraße, close to the corner to Ulmenstraße. Because of it's long opening hours, you can call it "Späti" (you might translate this as "Laty" as it's open until late at night). That's short for "Spätkauf", something like a 7-11. Iß was looks different from the typical Späti,especially as they are in Berlin.The prices in Spätis are higher as they are in supermarkets but not as expensive as they are in a Döner – in Germany they usually sell beer in Döner Kebap diners. Here's an example: A 0.5l bottle Rostocker Pils costs around 70 cents in a supermarket, around 2.50 Euros in a Döner, and 1.30 Euros at Iß was. (BTW: In a pub in Rostock you pay from 2.50 to 3.50 Euros to get a pint-sized Beer.)
Iß was looks shabby at first. Very GDRish and hideous. The regulars linger outside, drinking beer and smoking cheap cigarettes. It smells of poverty and resignation. They sell booze and fags out of a window. Literally window shopping…
When I moved to Rostock, I always thought of the kiosk as a place for drunkards and nutjobs. I would run a mile before ever going there. Then came the day I ran out of tobacco in the evening. I was a heavy smoker back then and the desire (better: the addiction) had gained control over my antipathy for the kiosk. Furthermore, it was almost midnight, and I knew it was the only place still open were I might have a chance to get tobacco. I approached very carefully when a bright smiling face appeared in the window. It was Thao.
He asked me if I had watched the football game earlier, if I was new in the area because he hadn't seen me before, and he told me about both his son who went to study in Paris and his other son who helps him with the shop every now and then. I was puzzled at first, but after our ten-minute-talk, all my prejudice and antipathy had vanished into thin air. The outgoing Vietnamese had conquered my heart.
From that day on, I have been going to Thao on a regular basis. He's got beer, Club Mate (a very famous drink in Germany and a great alternative to Coke), tobacco, and snacks – basically everything you need for a party night. "Iß was" means "Eat!", and since they redecorated in late 2015, they have actually been serving food again (I was told that they did so before, but that was before my time). The Vietnamese spring roles in particular are definitely worth a try. Filled with minced meat and vegetables, they are bigger than your average spring roles and much more juicy. It was a recommendation from the owner – what more is there to say.
Thao is the neighbourhood's heart and soul. When I come visit these days, he greets my with a warm handshake. Even the regulars don't bug me anymore. That is maybe because I became a regular myself.