Watching the sun go down is – to me – always perfect to conclude the evening. Another beautiful, and romantic spot is the beach in Warnemünde. The beach can be quite crowded and therefor loud, what I don´t like, when I want to enjoy the stunning sunset. The best solution to this is the "Strandzugang 27", which is in the west of Warnemünde town.
You should take the suburban train from Rostock to "Warnemünde Werft", then the bus 36, 37 to "Warnemünde Strand", and taking a short distance walk to reach the beach access. You can walk along the street or take the route which I also always pref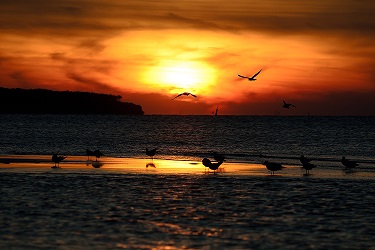 er, which is along the water. I choose that path because I love to feel the sand between my toes and listen to the waves of the ocean. Don´t worry that you will miss the location I´m talking about because you can´t miss it. There are set fireplaces directly at the beach, which is awesome because you can light up a pretty and warm fire and simultaneously use it to make delicious stick bread or S'mores
while watching the sun douse into the ocean.
It can get a little bit windy even on warm summer days so you should not forget to bring your blanket, and a warm jacket. You can collect sticks, for the bonfire, right next to the beach between the bushes but you will not find a great amount of wood, therefor you should bring some with you or be aware of a longer walk to find enough. To set the wood on fire you should also bring matches and some paper.
Bringing all that you don´t have to worry about anything else but enjoying the nice sunset with a warm bonfire.