Now that summer is on its way, there´s nothing better than watching the sun douse into the water. Here in Rostock, there are many absolutely fantastic places to watch the sunset, but there is one place, that offers everything you could wish, and it´s close to the city center, too – Gehlsdorf.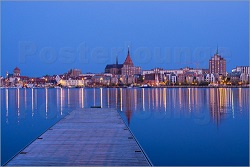 Gehlsdorf nails it because of its stunning view onto the harbor of Rostock. As it´s not only misery that loves company, I always love to take some friends and a chilled beer to enjoy it even more. It´s the perfect way to conclude the evening. Take the bicycle path along the waterfront and find you perfect spot with the perfect view. I love to sit very close to the water with the reeds right next to me.
It will take you less than 10 minutes to get to Gehlsdorf if you take the ferry, which departs at the harbor near Kabutzenhof every thirty minutes until 7.45 p.m. Don´t worry about getting home later because you can take the bus 45 from Gehlsdorf Kirchplatz to Dierkower Damm, and then take the number 4 tram back to the city center. By choosing this way of travelling you combine a little ferry tour over the Warnow with a breathtaking sunset at Gehlsdorf, and later on a tour through the city of Rostock by tram.