With its rich history and overall atmosphere of being the heart of Mecklenburg-Vorpommern, you might initially think that Rostock is the state's capital, right? Wrong. If you want to see MV's actual headquarters, you will need to travel southwards in the direction of a lovely place called Schwerin.
It might come as a surprise to see such a small city function as a capital, and it is, in fact, the smallest one in all of Germany (it doesn't even have a university, but let's not try to sound too bitter here). So, why visit Schwerin when Rostock with its outstanding Baltic charm is the actual, flourishing heart of Mecklenburg-Vorpommern?

Well, for me, the answer is quite simple: Schwerin, also known as "The City of the Seven Lakes" or "The Bright One" (that's my invention though, don't google it), is one hell of a beautiful city, that's why. As soon as you step out of the main station's building, you're welcomed by a warm and fuzzy small-town atmosphere where narrow streets are speckled with tiny cafés and shops; where electric trams are quietly blazing the trails; where old sandstone buildings and brick row architectures have been holding their positions for centuries. The city itself is built on steep hills with even narrower streets branching off the main roads, leading you to the city's central lake, the Pfaffenteich, which lies in the middle of colourful rows of houses and small market spaces. What's outstanding about this pond is that it's actually 100% square, and no matter where you're standing, you'll have a wonderful view.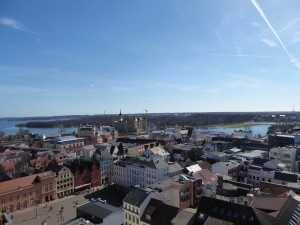 From this point on, it is fairly easy to walk to the city's town market where you'll find the monumental Schweriner Dom (Cathedral of Schwerin). If you decide on mounting all of its stairs up until its green-roofed tower (not advisable for people with a fear of heights or claustrophobia; trust my judgement), it'll grant you an incredible view over the whole city and all its seven lakes. On a sunny day, you'll experience why I called Schwerin "The Bright One" earlier. The whole city bathes stunningly in the sunlight with clouds showing their reflections on all of the lakes' azure surfaces.
The true highlight, however, lies a bit further down the market road on a tiny island within the city. If you actually decided to climb the stairs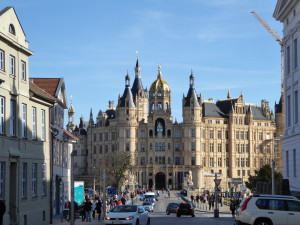 of the cathedral as I suggested earlier on, you'll already have spotted it. Between the large and wide lakes lies the city's castle, a bright yellow sun amid the void of the deep blue. With its golden roofs and the surrounding park full of flowers and grottoes, it is truly a fairytale place. Interestingly enough, there is a great distinction between a "castle" (in German: "Schloss") and a "Burg" (more or less translates into "fortress") in Germany, and you should try not to mix those two up if you don't want to confuse people here. Imagine the colourful, expensive-looking residences you keep on seeing in Disney movies? Yep, those are castles. Everything else is a fortress, keep that in mind!
But I'm digressing; if you've rounded the castle you can just as easily continue your stroll through the adjoining round castle yard and the park which will lead you up a green, undulating allée granting you another majestic view over the whole city.
So, if you've decided on paying this lovely city a visit, the only thing you'll have to do now is to hop on to the next train from Rostock and be on your way. It's only an hour's drive to a destination you really don't want to miss in MV. And if you want to save some extra money on your trip, I'd advise you to ask for the "MV-Ticket" which, if you travel in a group, is the best option to travel around Mecklenburg-Vorpommern.