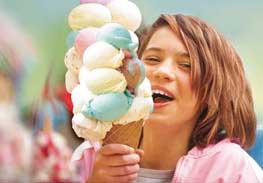 Let me start with a little game – What does everyone love in summer? Of course, nice weather sun, beach, the sea … there are many things. But what is soft, colorful and very cold? Right – Ice cream! Everyone loves to enjoy a warm afternoon in summer with some friends and a cone with awesome and tasty flavors of ice cream on top. And so am I.
Originally I'm from Dresden and trust me, I know the best ice cream spots at home. But 3,5 years ago, I decided to move to Rostock for my studies.
Suddenly I had a problem, I had no clue, where to find awesome Ice cream that I could enjoy on a beautiful day when I was off from university. Bit by bit I tried different icemen in Rostock and even in Warnemünde.
I got my first ice cream at "Eiscafé Milano" in a little mall called "Rostocker Hof", right at the "Kröpeliner Straße", the shopping mile of Rostock. This ice cream was so awesome – 1 week later, I stood behind the counter. You might be laughing, but it is true. I read a little sign and there was written, that they were looking for some new icemen. I spoke with the boss, got my date for trial work and as already mentioned, 1 week later I stood behind all the awesome self made flavors of ice cream and enjoyed my first job as a student in Rostock. I was very happy and cause it was Winter, I had not much to do and could taste some flaAlmost everyday when I was off from work, I went home with a huge cone overloaded with 3 or 4 different flavors and a big smile in my face.