(K)nope, not talking about these guys! Unfortunately, Leslie and her gang have not made it to Rostock, yet. But, Rostock's own Parks Department does the job just as well — if not even better.
Looking at Rostock from above, you will not only see a lot of green in-between buildings and blocks, but also many larger, wide-spread green areas. No matter where you are in Rostock, you will not have to go far to fiend a quiet spot away from the stress of the city and the buzzing crowds; almost every city quarter has its own park or garden.
Let's say you're in Warnemünde, frying in the ruthless summer sun at the beach amongst masses of sweaty, sandy people, and you just want to get away from there as fast as your feet can carry you… No problem! The next park is never more than 500m away; just walk up the dunes, cross the Mole, and the street, and you have reached your destination! Depending on where you started off, you will find yourself in one of Warnemünde's three parks: the Kurpark (spa park), Stephan-Jantzen-Park, or Arankapark. All three parks provide plenty of benches and lots of shaded spots under trees, which makes them great places for cooling down on a hot summer's day and just leaving all your cares behind. The Kurpark also offers free WiFi (for more about that check out my previous blog).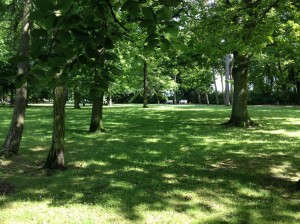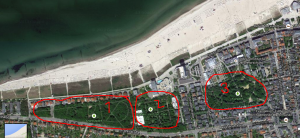 As mentioned, Warnemünde is not the only place in Rostock with nice parks. Believe it or not, there are two parks right in the city centre: the Rosengarten (rose garden), and right next to it, the Wallanlagen (rampart). Imagine a busy day in the city centre: a stream of people flowing through the streets, spurting in and out of shops, each individual just a part of the swarm, surrounded by others from all sides, packed like sardines, just suffocating! Here's my tip: grab an ice-cream cone from somewhere (preferably from the "Milano" in Rostocker Hof, the best ice cream parlour in town), and get out of there! Freedom is just a few steps away! The Rosengarten is a lovely, small pleasure garden, which is particularly stunning when all the delightfully fragrant roses are in full bloom.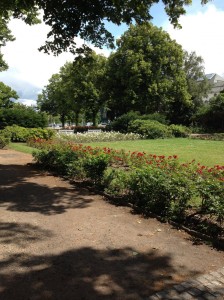 The Wallanlagen are very big, but secluded at the same time; they are a wonderful, tranquil place for a peaceful walk or a nice quiet detour for getting from the city centre to Kröpeliner Tor or Doberaner Platz without having to scramble through the masses.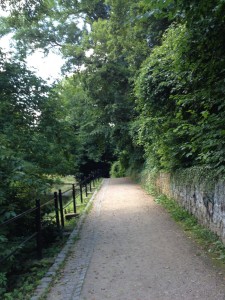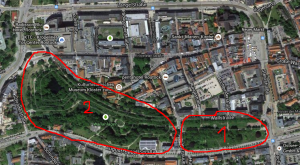 If you want to relax and broaden your horizon in one go, you should absolutely pay the "Botanischer Garten" (botanical garden) a visit. The garden is maintained by the University of Rostock's Department for Biological Science, and there are about 10,000 plants of different indigenous and foreign species on display. The garden consists of a green house and an open-air area. The green house, called the Loki-Schmidt-Gewächshaus, is divided into two parts: one houses plants form tropical countries (e.g. bananas, orchids, coconut trees, etc.) in a hot and humid climate, the other has plants from deserts and wastelands (e.g. cacti, aloe vera, etc.). You can go in there on your own (which is free), or take part in a guided tour (for 2€ per person, 1€ for children). The green house is open from March to December, Tuesdays to Thursdays from 10—12.30 am and 1—3 pm, the tours are held almost every Sunday at 2 pm.
The open-air area, which is open from March to December, Tuesdays to Thursdays from 7 am—6 pm, and Sundays from 9 am—6pm, is separated into different sections by classification, place of origin, or other criteria. Every plant has got a little sign with its common and scientific name; some signs also state whether the plant is poisonous, or how it might be used.
With its 7.8 hectares, the botanical garden offers enough space for an extended afternoon walk through nature, or a delightful picnic in the sun; when the weather is nice, the garden personnel even puts out tables and chairs for the visitors to use.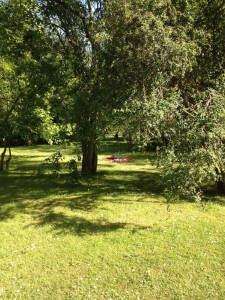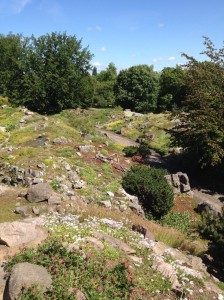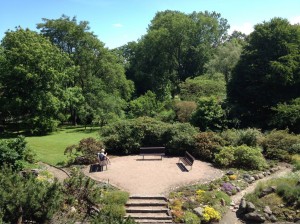 Got your picnic packed but the botanical garden is closed? Don't fret! Not far from the garden is another fantastic location, the "Schwanenteich" (swan pond).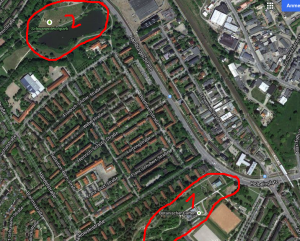 The Schwanenteich is larger than the word "pond" might suggest (ca. 1.5 hectares); you might even call it "Swan Lake"; maybe, whoever named it wanted to avoid getting sued for copyright infringement 😉 In the middle of the pond is a large, gorgeous fountain, whose spray you can even feel on your face from quite a distance if the wind is strong enough.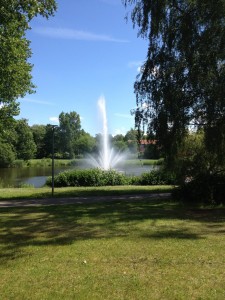 The pond is surrounded by reeds and vast, green meadows, where you can always find people relaxing on blankets, kicking a football, or engaging in some kind of outdoor game. Not only humans, but also animals enjoy the tranquil environment the pond offers — most prominently the typical mallards; but also occasionally the pond's namesake, the white swan. Do not get too close to them, though; they can be pretty aggressive, particularly when they are breeding.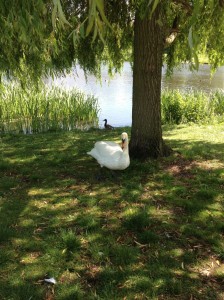 You see, our town isn't just about the beach. After all, as Bill Hicks so elegantly put it: "What's the effing deal with the beach," right? Pack a blanket, get some snacks, grab a ball, and enjoy a day at one of Rostock's great parks!