The football world championship is in progress, and the whole country is thrilled. On match day, people wear football shirts with the numbers of their favorite football players on them. Flags are raised in the gardens, on cars and out of windows. Then, finally, the time for the opening whistle is there and you, as a poor student, are left sitting in front of your TV because a ticket to Brazil was way too expensive and there is not enough space in your living room  for all your friends.
No need to be sad, just head on to one of the many public viewing places in Rostock.
If you don't want to go to one of those overcrowded places, where you only see the score in the highest corner of the screen (because a man with a back like Hulk will inevitably standing in front of you), try a place like the "Zwischenbau".                                           The atmosphere is quite "chillymilly". Beach chairs are spread all over the room, in front a huge screen. In the back of the room there are couches if you want to escape the excitement of match for a minute. At the bar, you can get beer for a few euros or some cold and non-alcoholic drinks.
During half time you can go outside and enjoy a sausage at the barbecue or discuss the first 45 minutes with others. There is also a table soccer game inside, where you can have your own little match time. A lot of foreign students are living near by, so sometimes a little world championship is on. Germany against France and Spain AND Italy. The only thing you can do is with the ball: "Reinmüllern".
there is no entrance and even some families enjoy the place with their kids. Though there is no discrete play area. As long as you start screaming, when Germany score, everybody will welcome you. Actually they offer a lot more joyfull experiences for people.
Sometimes you can go to parties with good modern music or even see some concerts of very cool bands. The best about the place is that during concerts you aren't felt 10km away standing between a croud of people, unable to move. For example, in May there was Kakkmaddafakka playing, a group of young Norwegian people. Their music is something between dande music and summer-beach-tunes.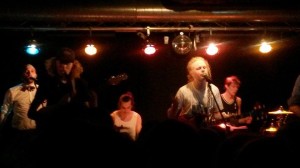 The "Zwischenbau" is pretty central. It's a little place between the student dorms in the E-Schlesinger-Straße in the south of Rostock.