Rostock harbours a wonderful collection of zoological specimen and curiosities. This collection is located right in the middle of Rostock's shopping centre near the high spirits fountain (in German: Brunnen der Lebensfreude, but to every Rostocker only the inofficial name "Pornobrunnen" rings a bell). The centre of Rostock is worth seeing in itself but even more so the secluded part behind the little patch of greenery next to the fountain.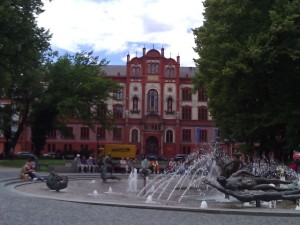 There you'll find a few architectural and cultural sights, that are easily overlooked when strolling down the crowded bustling shopping street such as the main building of the university of Rostock, the monastery of the holy cross, the monastic garden with a cozy little café called the Klostercafé – and to the left, just before you walk through the archway entering the monastic grounds, you'll find the institute of zoological research that houses the zoological collection in a yellow Roman-inspired building.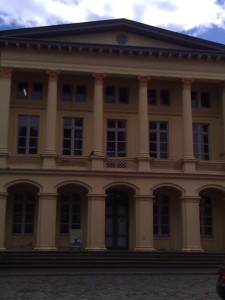 Climb the few steps leading to the door behind the large columns, enter the entrance hall where the displayed specimen at the wall seem to welcome you and turn left. The small room you're about to enter then presents limited exhibitions throughout the year. It is accessible free of charge – however donations are always welcome.
It's open to everyone:
Monday to Thursday from 10am to 4pm
Friday from 10am to 2pm.
At the moment, when you enter the room, you'll find yourself on a short and informative journey to the creatures of the Polar regions, their modes of life, their extraordinary features, with which they are able to survive and thrive in that cold and seemingly inhospitable environment, and their wild and cold-defying beauty. The highlight, and definitely the most prominent exhibit in the room because of its sheer magnitude, is a preserved specimen of a polar bear, which recently died in Rostock's zoo.
On the second floor of the building the full collection is laid out but not as easily accessible. But if you make an appointment (look out for the name HLAWA — she is in charge of the tours) the staff is more than happy to give you a well-informed tour through the exhibition (still completely FREE OF CHARGE). The main focus of the collection is the airy world of fowls and birds and the water world of the fish and marine creatures. Along the way however, you'll find many other stunning animals (my favourite: the stuffed tiger) and they have a small section on weird and distorted excesses of Mother Nature.
Take a short virtual tour to get a first impression.
So don't miss out on the opportunity to see many specimens at close range that you wouldn't lay eyes on in real life and in case you need to entertain kids – this is the perfect way to combine fun and learning.