Hey folks,
Caro here 🙂
What a week! The football world championship is in full swing and people here seem to go crazy.
On Monday, I was rushing through the nearest supermarket to catch something to eat and drink before Germany's first big game. Well, I was running late but I was clearly not the only one. The counters were all open but people queued up like it was the last day to buy food before the world goes down. But hey, I don't want to complain – I was one of them, even though I'm not the biggest football fan.  Therefore it would not have made a big difference if I lost the first 10 minutes of the game but people around me started grousing and looked at their watches continuously, as if time would flow faster by it.
As I was standing in the queue, I happened to stand right next to the alcohol shelves. And there was one bottle that caught my attention. The Doberaner Klosterbecher (Doberan's Abbey Cup) – a clear herbal liqueur.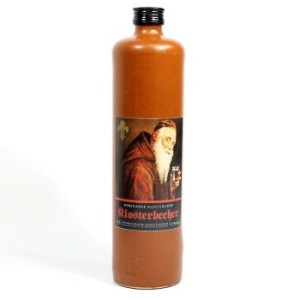 Well, you might not find that really interesting but the funny thing is, I am from Bad Doberan and I had NEVER heard of it before! So I looked it up and started to refresh my knowledge about my home town. So if you are interested in history, traditional food and drinks and a really nice place to visit – keep reading!
The Doberaner Münster is a Lutheran church in the heart of Bad Doberan, a beautiful and peaceful city close to Rostock. This church happens to be the most important religious heritage of the European Route of Brick Gothic (EuRoB), a tourist route connecting cities in Denmark, Germany and Poland which have brick gothic architecture. Who knew!
The Münster is the last remaining part of a Cistercian abbey from 1368. It was also proposed as a candidate for the UNESCO- World Heritage Site. It is a beautiful building and you can visit it and book a tour to get to know more about the history of this architectural masterpiece here!
But back to the Klosterbecher. I found out, that it is brewed in a long tradition and sold in a classic clay bottle. And there is one place in Bad Doberan, where you can enjoy it in the most unique and original atmosphere: The Doberaner Torhaus (Doberan's gatehouse). The Torhaus is the oldest house in Bad Doberan and last year it celebrated its 250ths birthday.  In former times it was part of the wall around the abbey and was probably used as a kitchen house. In 2006, it was fully renovated by the city and is now home of a cozy café and abbey shop. Here you can enjoy high quality, regional food, craft products, and literature in a beautiful environment.
Certified Bio products from local producers are sold here and the Klostercafé (abbey café) has its own specialties under The Seal of the Cistercians. Homemade pies and cakes, bowls of hot, mouthwatering stew, excellent wines, traditional beer, and natural, unfiltered juice made of the fresh apples growing around the Münster – you can find and try all of those delicacies in Bad Doberan.  The Klostercafé impresses with traditional, rural furniture, handmade pottery and an idyllic garden to relax and forget about your worries.
So if you like traditional, clear herbal liqueur, give the Klosterbecher a try and if not, there are so many local specialties in Bad Doberan to explore and try. It is definitely worth a visit!
Cheers!