If you have a stressful and noisy life and you fancy something like Rostock, this town I'm going to talk about is the perfect trip for you. It's comparable to Rostock, but just with a slower pace of life. People always think it's similar to Rostock, just a bit smaller, but size clearly isn't everything you should consider about this townlet.   In the summer you can go to the harbor, a harbor which is less crowded than the one in Rostock (though it's also popular for tourists, you never feel like you're in the way in someone's photo or an undesired part of a "selfie") and enjoy ice cream from "Al Porto". It's the best ice cream you can get in Wismar, and in contrast to numerous other "Italian" ice-cream places in Germany, it is actually owned, run, and breathing with real Italians and Italianness – the difference can be felt during several football matches, where the whole town is upset about the drubbing of Germany against Italy. Just one place is happy and about to celebrate.   You should also take a walk through the historic city-centre, which has a lot of historical gothic elements traditional to the region and signposted in a welcoming mix of German and English. For example, there are at last three churches, which you can visit the whole day for free. By night, spotlights change transforms the buildings into a mystic and rare sight, like in an old Transylvanian movie. Actually the movie "Nosferatu – TheVampyre" was shot in some parts of Wismar.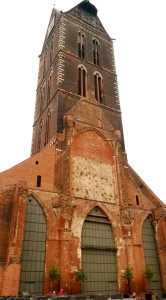 Since April 2014 you can go to the church of St. Georgen where you are able to go upstairs to platform. Don't be scared, there's also a lift. On the picture you can guess about the view you get standing on this platform. You can see a part of the sea, or the little island called "Poel" (it's near to Wismar, if you want to visit a place which is even less crowded than Wismar.), or the shipyard which is kind of the town's landmark.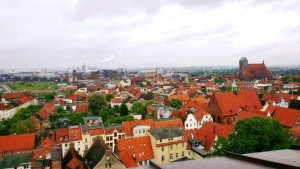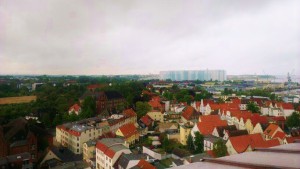 If you are a fan of Sagas, the older citizens could tell you quite a few, you just have to ask them – they are genuinely happy to get the chance to natter on for a bit; just be prepared for them only to be able to do this in their own abrupt, harsh and sarcastic north-German tongue. The people in the north of Germany aren't always really grumpy in the way some make out –, that's just a prejudice.   A good place for relaxing, besides the beach, is the "Bürgerpark" (public park – nothing to do with the edible ones). A large area offers a variety of different activities. You could play volleyball, relax on one of the many lawns, have a barbecue at the designated fireplaces, or scale the viewing tower. But what you will like most about Wismar is that you could reach everything you could want to see, like the things that I mentioned above by bike. For example, near the central station  is a place where you can hire some.   So enjoy yourself and take a break from everyday life with the little sleepy town at the sea. At least, even you will be sleepy after visiting all these places.