Since I have already given you my personal recommendation for watching and playing some good old amateur football in Rostock, I feel it is time to do something good for those among you looking for a more laid-back leisure activity. But I won't part with my favourite piece of sports equipment just yet. As you will see, the round, kickable companion is not exclusively loyal to it's sporty fellows, but is also the perfect sidekick (pun intended, and heads up for more!) for a fun evening in a pub or club. I am talking about Tabletop Football, which you may also know as Foosball, Kicker or Table Soccer. And I know just the right places to enjoy it in Rostock.
Let's get the ball rolling with the M.A.U. Club. You can catch up on all you need to know about the club itself in this very informative previous blog. Besides live music and a variety of ways to get tipsy, the M.A.U. also offers the cheapest way to enjoy Tabletop Football, namely the free way. Without needing to worry about who will pay for a match, you can just go ahead and drag your friends away from the dance floor and have a go at it once you feel the need to exchange the beats and bass for goals and giggles. The only downside that comes with the games being free, is the poor quality of the table itself. It has definitely seen better days and could use a repair or two. Nevertheless, in a club like the M.A.U. this may not be a big issue since it offers enough other distractions from your daily grind.
Now let's pass the ball to the Bunker. The Bunker has been subject to various recommendations here on BalticSeaBackpackerTips and is about to get another one. There are two identical tables ready to be used at almost all times and both most definitely belong in the first division of Tabletop Football in Rostock. One game (11 balls) costs 0,50€, which is absolutely fair for the quality you get. Keep in mind that depending on the event going on in the Bunker, the tables may be placed a little bit offside to the central bar, away from all the chatter and music. This makes it harder to get to know new people when playing the game and may not be everybody's first choice.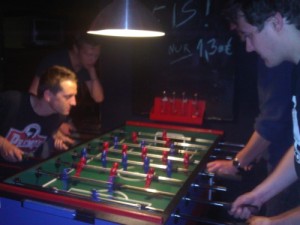 Last but most certainly not least is my personal champion of Tabletop Football in Rostock: the Pleitegeier. It combines all the assets you could want: there are two perfect (!) tables, the price is the usual fair 0,50€ per game, and the location is great to play with your friends or the friendly strangers you will often just meet there. You will also find a wide range of player levels at the Pleitegeier. Casual and more advanced players alike meet here to either play for fun or for glory.
If you would like to get even more involved with the Tabletop Football community of Rostock, you should visit the homepage of the Kickerkogge. They host tournaments and leagues all over the year for top-class players, but the 2nd division is also suitable for intermediate players.