Hey there! The sun is shining, the weather is sweet. That's why I'm going to present you my favourite places to enjoy the light and warmth. These places aren't really hidden or unknown, so this post will be most interesting for those of you who haven't been to Rostock before.
the harbor
Well, I think it isn't really a secret that Rostock's harbor is a lovely place to enjoy the sun. There are always a lot of hundreds of people
barbecueing and playing Kubb or Flunky Ball. If you haven't played any of these games: both center around throwing something, running to pick it up again and often company alcohol. You also have to drink beer while playing Flunky Ball. Just try it, since the teams are always looking for members and the rules are as simple as they sound. By the way: my favourite place is the small
concrete "peninsula" called "Haedge Halbinsel". It's near the "Alter Fritz" and can't be missed because of the big blue crane. During summertime you can even find a portable toilet there – which you will need after a few fully games of Flunky Ball.
how do I get there?
Just turn to the east when you're anywhere between Doberaner Platz and Maßmannstraße.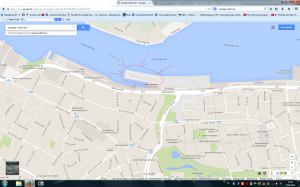 Useful information:
– "beer taxi" – you can sometimes see two guys on a bike driving up and down the harbor. They sell beer for moderate prices (1 beer for 1€).
– Your evening doesn't have to end after the astonishingly beautiful sunset. Most people just refuse to leave.
Universitätsplatz
Although quite small, the Uniplatz makes you feel like you're sitting in a park in the middle of the city right next to the main shopping mile of Rostock. Since this place is so central, it is very likely that you will bump into someone you know(at least if you already know someone in Rostock). Cheerleaders performing their dance, strangely dressed guys fighting each other with swords, people with guitars sitting in the gras and singing songs – there is always something interesting to see while lolling on the Uniplatz.
how do I get there?
It's right next to the Kröpeliner Straße. Take the tram to "Lange Straße".
Useful information:
Don't expect anyone to be there after the shops are closed, though. This area will look like a ghost town.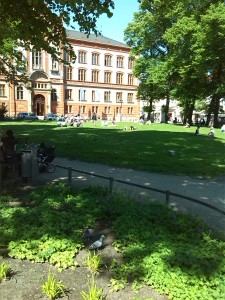 Warnemünde
To hang out at the beach seems obvious, but I might still offer you some useful advice. If you just take the train to Warnemünde, you will end up at a horribly crowded part of the beach. You should instead get off at "Warnemünde Werft" and board the bus to "Warnemünde Strand". You want to know what's so special about it ? Well, the beach there is clean, soft and white. It almost feels like you're walking on a giant pillow, which is a nice thing, if your feet aren't used to being tortured by those mean little stones which are found at other beaches and hurt like the lego bricks I used to step on as a child. Moreover you are quite likely to find beach parties there.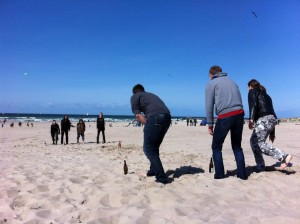 Fischerdorf
If your dorm or hostel is in the north of Rostock, you might also consider visiting Fischerdorf (the tram station has the same name). Just pick a bench and get yourself recharged by the sun. One of the best things to me is to complete my tasks for university in this little green part of the paradise.
Useful information:
First step: buy some bread
Second step: bring your crush or significant other with you
Third step: profit – there are many cute ducks and even a swan