Oh my god, your birthday is pending once again! Your birthday PARTY is pending once again! So, where to celebrate? At home? Too much dirt and mess. At a bar? A bit ordinary in the long run. At the HCC? Great! That's it!
The "Holiday City Center" (HCC) offers the perfect location to have an amusing, yummy, and even active evening when compared with our "ordinary" bar nights. Why? It boasts a great and inviting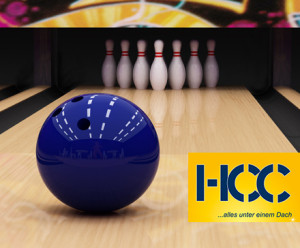 bowling lane! You cannot imagine how much fun you and your friends will have by battling for scoring the most strikes – or at least one in my case. And it wouldn't only be your friends celebrating this evening with you – the bright lights, hip music and a definitely lively atmosphere will also be your guests!
You will neither die of hunger nor of thirst: the menu at the HCC invites you to eat delicious Burgers and even more delicious potato wedges (both much more crispy and tasty than the average fast food). Don't worry about the calories, by tossing the bowling balls you will burn them again. So also don't be afraid to drink some nice cocktails or to enjoy some salty snacks. I'm sure that you'll feel very comfortable there.
The question however remains of how to get there because the HCC is located in Schmarl in Rostock. Don't worry, this problem takes care of itself! Right in front of the location, a bus stop awaits you. The busses drive all day; they drive all night; they will certainly get you there and back.
By the way, you have probably already noticed that the HCC is not only a good location to celebrate your birthday. Whether familiy party, hen-night or just to meet some old friends – of course you can spend a great time any other evening, too! And the bowling lane is not the only attraction the HCC has to offer. I think you will be definitely impressed! I'll just give you some catchwords: ball sports, fitness, wellness, … . So did I piqued your curiosity? Then let's satisfy it! The HCC awaits you, and whether you manage one or not, you'll certainly leave with that "Strike"-feeling!