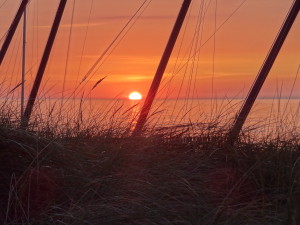 Family holidays – loud, adventurous, relaxing?
On the camping ground 'Liebeslaube' in Hohenkirchen, they are in any case.
While their children play in the wide calm water and have lots of fun at the playground,
parents can relax by surfing, playing ping-pong or reading on the beach.
Everybody knows this situation: The whole family arrive on the beach;
the children notice that their bucket and spade are still at the tent; the father has to go
the whole way back to the tent and get them. No problem at the Liebeslaube – the beach is directly
next to the camping ground. No long beach marches or journeys, no hide and seek, just wake up,
grab your swimming costume and jump into the water – is there anything better than this?
The arrival can be very time-consuming because this camping ground is off the beaten trade,
so it is best to go there by car. It's also located in a bay, which doesn't bring out a feeling of freedom for me.
The water, as I mentioned before, is very calm, so on the one hand it gets very warm in summer;
therefore it doesn't cool you down much. But on the other hand, it's quite friendly for little ones,
who can swim and play without big waves and the fear of deepness.
Turning back from nature and the middle of nowhere, Hohenkirchen is conveniently located.
Equally, if you go on a trip to Wismar with its zoo, the Ostseebad Boltenhagen (it is a town with special curative features)
with its beautiful architecture, or if you go to Grevesmühlen with its famous Pirate Open Air Show; I think it is definitely worth a visit. In particular, the Pirate Open Air Show is something special that will make your holiday much better than you could have ever expected before.