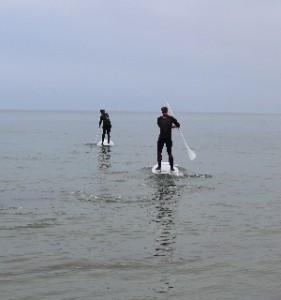 All the way from Hawai, SUP has found the Baltic Sea. It is, for sure, one of the most FUN things you can do while you stay in Rostock!
SUP stands for Stand up Paddling, the concept is very simple: You surf on a long surfboard with the help of a paddle. Anyone can easily join a SUP lesson; and mostly after an hour in which you will learn how to fall off the board and battle the balance, you will get along well. The opportunity to explore the sea on a surfboard is a great experience you should definitely try. Moreover you can enjoy the great views along the coast of Mecklenburg Vorpommern.
There are particularly good things about SUP: You don´t need to worry if you are not that "fit"! I can tell you, everyone – and I mean everyone – can do it. It is so much fun, as well as offering a really good work out. You will improve your balance and get fit easily, the best thing doing that you won´t even recognize.
You can try out SUP even if the weather is not particularly good. It doesn´t need to be sunny and warm; the neoprene suit won´t allow you to get to cold, the activity will warm you up pretty quickly, and – looking on the bright side- no sun burn. SO even on days where you might not visit the beach because of the weather – you will have another option. SUP is fine with all kinds of weather – except from stormy wind!
In Warnemünde you can do SUP at the Supreme Surf Shop. The shop offers nice courses which take place directly at Warnemünde Beach. Open minded instructors are there to help you to get to know Stand up Paddling. The Shop also provides special clothes for you to wear.
Another nice place to try Stand up Paddling is the Surf-School in Heiligendamm. It is much smaller and more private, in my view a more relaxed atmosphere (one reason for that is the uncrowed beach). To be honest, in the summer Warnemünde is overcrowed with tourists, which is not the best for SUP beginners. The prices for Stand up Paddling in Heiligendamm are also cheaper.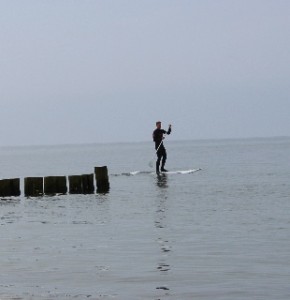 So try and find out about the joys of SUP for yourselves and most importantly enjoy it and have fun!