So, today I want to talk about our Swan Lake. To those classic music lovers among you whose Tchaikovsky hearts just back-flipped – sorry, not what I meant. Feel free to click  here however if you want to set this post to an appropriate soundtrack.
No, I'm thinking about the Schwanenteich, a lovely little lake about five minutes' walking distance away from where I live. It's easy to get there by tram as well, just get off at the station "Kunsthalle" (art hall) which is also a great place to visit an exhibition or an event.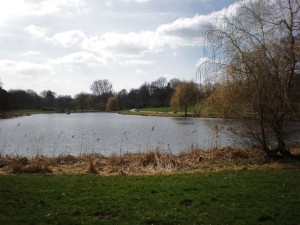 Even though "Teich" actually translates as "pond", don't be afraid to find a small dingy puddle there. The Schwanenteich doesn't quite take on the dimensions of the Black Sea or the crystal clear surface of the Caribbean Sea for that matter but it's a pretty stretch of water surrounded by charming trees and lawns. I love to go there whenever I need a study break or simply a breath of fresh air.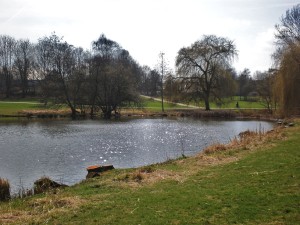 You will always find some people relaxing on one of the benches or taking a walk as well as some highly ambitious joggers, often with a dog with equal stamina chasing after them. 
It's all fun and games – at least until the first day of snow. Then you can easily get involved in a multiple collision with tons of toddlers on their high-speed sledges – watch out! Nevertheless, the frozen lake and its snow-covered surroundings are of course a sight for sore eyes.
As I said before, the way around the lake is not exactly a marathon equivalent. However, you can easily have a nice 30-minute-walk and then sit down somewhere to enjoy the view.
Of course you can tell from the name of the lake that we should be able to find some waterfowl around here – and we are.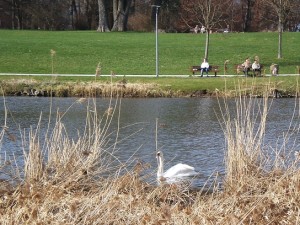 Don't worry, no Jaws sneaking up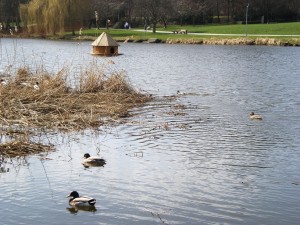 behind you, but you should remember not to approach the swans. They're not exactly killer material but can be quite aggressive, especially with their little ones around. Still, you can bring along some old bread and feed the ducks if you feel like it (But make sure this doesn't happen to you!).
So, if you're looking for a quiet location, away from the city fuss but still not too far from the center, go check out the Schwanenteich. It might just be the place for you.