One Bakery you can find everywhere in Rostock is "Stadtbäckerei Junge" (Citybakery Junge). There's also a chain store in the center of Rostock in the Kröpeliner Straße near the "Brunnen der Lebensfreude" ("lust for life fountain", but most people know it as Pornobrunnen "pornfountain" XD ). Although it's "just" a chain store I really like the nice salepersons, the good quality of the products and the familiar atmosphere.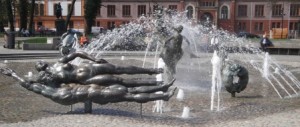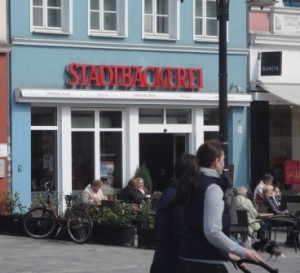 It's a great place where you can sit down and enjoy a delicious piece of cake, hearty sandwich and/or hot drink of your own choice.  Coffee, cappuccino, espresso, cocoa, tea. These might not sound like Maydrinks, so if you can't stand the heat become cool with water, a soft drink or a freshly pressed fruit juice. As a special offer in the summertime, you can get "fresh tea".  Apple/cherry + black tea + ice = the perfect drink for hot summerdays. If you drink too much, there's also a toilet for customers.
It's a little bit tricky to find the restroom. Next to the salad bar is a small corridor, which you walk along. Go through the door, down the stairs on the right and there you are! If you really can't find it, just ask =) .
Bakerman is (not just) baking bread the counter is divided into the "sweet-side" (on the left), where you can find all kind of pastries and different kinds of (world-famous) german bread. And, on the right hand side, you can find a big variety of sandwiches and salads. What I'd recommend is (my favourite) the "Schlemmertasche" (feast pocket). A bread roll scalloped with cheese and filled with remoulade, lettuce, boiled ham, tomato and cucumber. Very Yummy!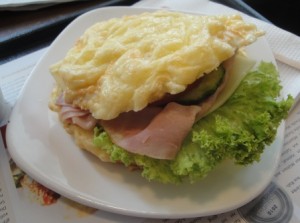 Get everything you like, pay for it (every product is around 2 – 4 €), take your tray, sit down where ever you want/can and enjoy. If you're short on time you can easily take your treat(s) away.
It's a very nice spot where you can meet friends for breakfast and coffee klatch =). It's very comfy to chit chat inside, but I think it's even better if the spring has finally arrived. What's better than eating a great meal and to feel the first shafts of sunlight on your face?!
By the way don't forget to clear away the table! It's a common practice in self-service-cafes in Germany, which is considered to be polite. Just put your tray with the dishes in a designated oddments tray. Ordnung muss sein (= a german phrase compelling people to keep order).