As a passionate skater I always love to find new routes. In Rostock you can skate quite well along the city harbour. But exhaust fumes, traffic lights and pedestrians make it hard to feel comfortable while skating in the city. So why don't change car fumes for fresh air; traffic lights for green trees; pedestrians for some cyclists once in a while? I have tried some routes in the surroundings of Rostock. It's time to share my favourite one with you:
Firstly you have to take tram 2 or 5 to get to "Südblick" which is the final destination in the south of the city. Secondly you have to beware that the route is ca. 12 kilometres long. So it's better to bring some water if it's hot. Thirdly it might be good to bring a detailed map of the region or your smart phone because it would be difficult and bore you if I described every step of that tour. Here is a map of my proposed route: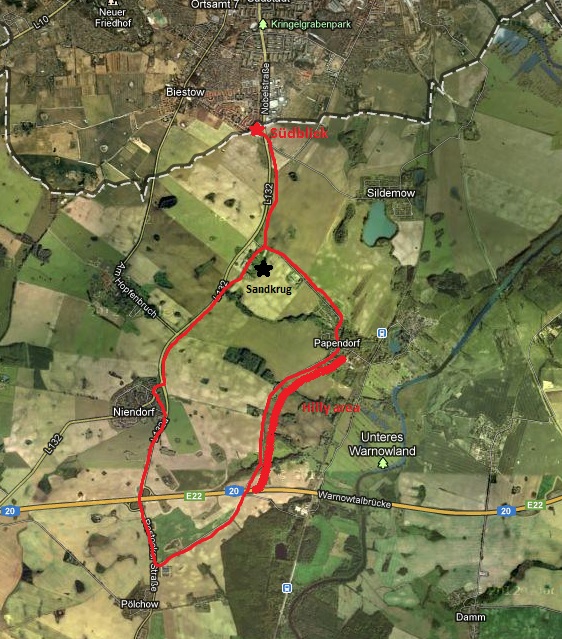 To start the tour you simply follow the cycling path out of the city. For 1.5 km you can enjoy escaping the city; always quite close to the main road – but never too close, that no exhaust fumes can give you a hard time. After that you cross the road straight ahead into a very small village named "Sandkrug". In Germany it is not officially allowed to skate on the road – not that anyone cares in that kind of villages. If you keep skating ahead and follow the road, you will come to a traffic light after another 2 km. There you cross the road to enter the village of Niendorf where you should stick to the very left hand side. The street you will find there is marked as a dead end street, which it is not for skaters. It ends in a beautiful cycle path – which is by the way part of the nice long cycle route from Copenhagen to Berlin!
Leaving Niendorf behind you will cross the highway and almost reach the village of Pölchow after 2.5 km. You wonder why I said "almost"? Well, it would be an average skating tour if you went back now; it would be an exceptional skating tour if you took the small rural road to the left just before the village of Pölchow. It is a quite calm road and almost never I've come across a car there!
If it is late summer time something magic might happen: you smell the odour of the harvested fields, feel the warm sun on your skin, hear the birds sing. And suddenly you might feel like your soul takes a time off from the hectic pace of modern life.
Following that peaceful road you will cross the highway again and after that the first real prove of your braking skills will come, because the road falls away quite sharply there. There will start my personal favourite part! After you will have shown your braking skills it is time to check out your fitness in skating uphill! It is quite hilly there and if you need a break you can grab an apple along the way or fight your way over the two decent acclivities and rest on a bench before entering the village of Papendorf.
Don't worry! Once you have reached the village you have made it through the toughest part. From now on everything is going to be easy peasy!
In Papendorf you have to follow the main road to the left. It would be best to skate on the pavement due to the passing cars. Behind the village you will find a cycle path again and after a while you will find yourself by the small village "Sandkrug" again. There you only have to go to the right and you will be back on the road where you came from. It will be 1,5km to go from there to find you way back to Rostock "Südblick".
So, what do you think? Ain't it a nice tour?
Keep on skating for a free world!