When I think of Christmas, I think about family gatherings and nativity plays, Christmas roast and cookies, candles and carols, decorated Christmas trees and presents underneath it. But actually, when I talk about Christmas, I mean Christmas Eve. Christmas is one of the most celebrated holidays – if not THE most celebrated one. The stores stay closed for two and a half days, and most of the people only come out to take an after-dinner walk.
I celebrate the holidays together with my family here in Rostock. Here's what a traditional family Christmas Eve looks at my family: Before lunch everyone is locked up in his or her own room to prepare the last Christmas presents and cards. In the afternoon we go to a Christmas service to watch a nativity play and sing carols. Afterwards we go home, eat cookies and oranges, drink coffee, read stories, and sing carols. Then comes the first highlight of the evening: We do a Secret Santa. This year, I had to buy a present for my dad (luckily he'll not read this since he's not speaking any English 😉 and I'm already looking forward to this.
When we've cleaned the table a little, comes the best part of the evening: The big handing out of presents. Okay, I know that Christmas is mainly about the birth of Jesus and not about presents, but still, I love it! The coolest part, actually, is the lining up and entering the living room. My brothers' eyes are lightening up (and mine probably as well), my parents going first to inflame the candles on the Christmas tree (yes, there are a few Germans left who have real candles on their Christmas trees), and then they call us in. Santa has already been there and dropped all our presents 😉 After everyone has explored his or her bunch of presents, it's our parents' turn to open theirs. When all the present-opening is done, we normally try out a present or watch a Christmas movie, eat potato salad and sausages. Before midnight my father asks who wants to go to Christmas Mass with him and those who don't go, stay and enjoy the rest of the night until dad comes home again.
On Christmas Day and the following day we just enjoy each other's company, the free time and the good food. Sometimes we drive to Warnemünde and stroll around.
I just LOVE Christmas Eve; it's the best time of the year!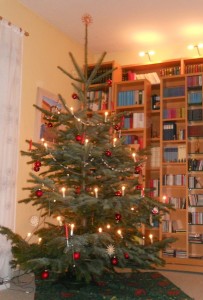 P.S.: Here's a great version of the traditional Christmas story.