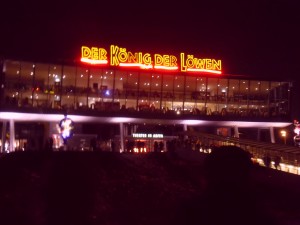 I really love Disney! When I was a child I always loved to watch disney movies, such as "Mulan", "The jungle book" and so on. And my favourite always has been and still is "The Lion King".
So when you are in Rostock, you have the chance to visit the The Lion King's musical in Hamburg. And if you like Disney and especially "The Lion King", but maybe not that much as I do, you should definitely go there. It is not far away from Rostock and you can reach Hamburg very easily. Just take the train from the main station which leaves every two hours a day and stopps at the main station in Hamburg. When you are in Hamburg, you just have to take the tram and get off at the "Landungsbrücken". You will be at the habour of Hamburg, which is a very nice place to spend some time there. So as you can see, there are no problems to reach it. Another little special is that you have to go by a little ship to reach the small island where the musical takes place.

The price of the musical is not that cheap, but it is definitely worth it. To have a little price reduction, you should pick a weekday and maybe not go there at the evening. It really doesn't matter at which day time you watch it because it will impress you at every time. When I went there with my friend I got speechless even as it began. We sat there at our seats, when the lights went out and the amazing music began. All the animals of The Lion King came in and passed our seats: elephants, zebras, antelopes, lions, birds and many more. And it was only the beginng!
The whole musical is full of overwhelming music and awesome suits. Yes, it was really one of the best things I had ever seen!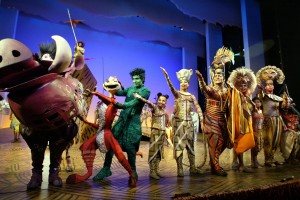 I don't want to tell that much, because you should definitely make your own experience. To get more information, just have a look at this page: http://www.stage-entertainment.de/musicals-shows/disneys-der-koenig-der-loewen-hamburg/show.html