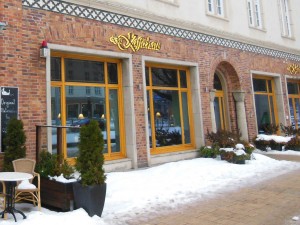 In need of a rest after a long day of sightseeing and shopping in Rostock? Then get comfortable at the Kaffeehaus and refresh yourself with cake and coffee. Located in the city's centre, it's one of the most convenient places you can choose.
What to expect:
I always take friends and relatives who visit me there as it offers a relaxing and impressive atmosphere. After entering, you immediately face the counter, where you will see various delicious cakes. In case you fancy such a treat, think of what you might like so you can place your order after being seated. The cakes are – as far as my experience goes – fresh and tasty. My personal favourite is the poppy-seed cake.
You can decide whether you want to sit in the hall or in the small lounge. Whereas the former represents the elegant style of classic coffee-houses, the latter provides a cozy atmosphere: Here chandeliers, armchairs and a fireplace (unfortunately only fake though) await you.
Like the name Kaffeehaus ('coffee-house' for those among you who haven't recognized the orthographic similarities yet) suggests, this place has a neat selection of coffee. For non-coffee drinkers like me, there are plenty of other hot and cold drinks to choose from. I love having tea there, for it comes on a tray in a silver teapot which looks adorable.
The staff has always been friendly and attentive, no complaints about that. What I found odd, however, was the toilet situation. Men and women share two independent toilets. Maybe it's just a measure to avoid long lines in front of the women's if the men's is not occupied. Considering they were clean, that wasn't, however, a matter of disturbance.
What might disturb you, though, is the high average age of the customers. The café is not the right place to meet young people. For getting to know the younger folk in Rostock, try the Barfuss Bar for instance.  
Apart from that, the Kaffeehaus definitely is good value for money and not difficult to get to at all.
How to get there: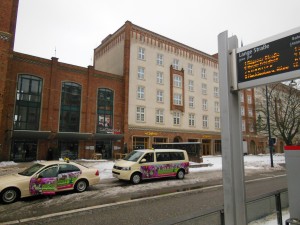 1. take tram line 1, 2, 5, or 6 to Lange Straße
2. cross the street (towards the harbour)
3. turn right slightly and you'll already see the Kaffeehaus next to an Italian restaurant    
opening hours:
daily 11 a.m. to 7 p.m.