Living right at the Baltic Sea is pretty awesome. Have you ever thought of doing some watersports? There are a lot of watersports possibilities. A really fascinating watersport is sailing.
Before I started sailing last summer, I didn't really know a lot about sailing. And for me it was not really a sport.
When I was thinking about sailing, I thought about grandma and grandpa going for a little cruise on their sailing boat at the weekend, just relaxing on the boat and enjoying the good weather.
But when I started sailing last summer, I found out that it is the total opposite.
Sailing is a real sport and it is lots of fun.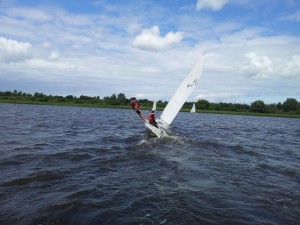 So if you are staying in Rostock for a little longer, and you are into watersports, or interested in sports in general, make sure you give it a try.
Especially if the wind is strong enough, it is really a lot of fun and you will realize, it is an awesome sport.
There are a few sailing clubs in Rostock, but the university also offers a sailing course in summer.
If you are a student at the Rostock University, make sure you get in the sailing course of the Hochschulsport.
They offer a lot of other courses as well, so check it out.
If you are not a student Rostock University, you have the possibility to get into the sailing course as well. The only thing is, you will pay more money for the course than students.
If you do not get into the sailing course of the university, there are other sailing clubs in Rostock.
Just check out the following links. It might be a bit more expensive, but I´m pretty sure it will be worth the money.
See- und Segelsportverein der Hansestadt Rostock e.V.
Rostocker Segelverein Citybootshafen e.V.