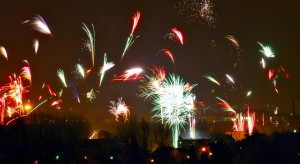 Want to spend New Year's Eve in Rostock? Looking for some great opportunities to make the most of this very amazing and special evening? Then you should read the following article which provides some great suggestions and insider tips for example of what you should mind, what you should do and of course of how you can reach the right party!
The first and most important rule is that you should sleep for as long as you can because New Year's Eves in Germany can be very long 😀 …
First of all, you can celebrate with your friends, particularly if you are here for a longer time, e.g. to study in Rostock for one or two semesters, some of the other students will perhaps invite you to celebrate at their homes. If you only come here for a shorter stay and don't have this possibility, you have to choose between Warnemünde's bars and its beach, and one of Rostock's clubs.
If you decide to celebrate New Year's Eve in Warnemünde, you can go into the bars and finally enjoy the fireworks at the beach – a unique and amazing experience! I celebrated in Warnemünde in 2010 and it was absolutely great, but unfortunately very cold, too. So the second rule is that you wear appropriate clothes, and that you don't bring your own fireworks because there are enough Germans who bring some and all the hotels have a fireworks display, too. At the beach, it's hard to know when it's 12 p.m., but a clue is the lighthouse which is near the beach. At 12 p.m. you can see the new year light up at the lighthouse.
If you decide to celebrate in Rostock, you have to choose between its clubs (party locations last year and this New Year's Eve) and you have to buy the tickets online or at least two or three weeks in advance. For clubs, the tickets cost about 8 to 15 Euros, for the hotels in Rostock and Warnemünde ( where you have a huge buffet and all drinks for fre) you pay about 130 Euros per person.
Since it's very important to have a good view of Rostock's fireworks display, I want to suggest some good places. You have the best view from Rostock-Gehlsdorf, from the Stadthafen ("inner-city harbour"), and in Warnemünde. Don't worry – on New Year's Eve it's no problem to get to different places because Rostock's tram and bus service has special timetables. Here you can plan your trips beforehand.
I really hope that you'll be able to enjoy New Year's Eve in Rostock this year or in the following years! Guten Rutsch 🙂 !