All over the world there are loads of people interested in Football, Basketball and Volleyball. In Great Britain, the United States and parts of South America, in particular Handball is not a very common sport activity. A lot of Germans, however, would say, it is a very popular sport here in Germany – perhaps behind football.
There may be one thing you might ask yourself: is it another sport particularly for men? I don´t think so. While many boys try to become big football stars, a lot of my female friends have played handball for ages – including my sister and my girlfriend. The latter plays in Wismar (south-west of Rostock) and I really appreciate it because she and her teammates would beat me very easily if they´d play more local. It looks easier than it really is. In Mecklenburg-Vorpommern, we have 3 big clubs where women have the chance to play in a higher league. All three, Rostocker HC, Grün-Weiss Schwerin and TSG Wismar, where loads of my female friends are located, play in the 3rd German handballdivision.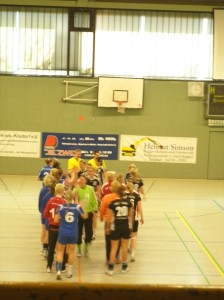 I don´t want to imply that handball is just a women´s sport, but in this case, I´m sure that young girls and women in Mecklenburg have a greater opportunity to be accepted by playing handball than in men-dominated sport activities like football. Unfortunately, there is still loads of prejudice affecting women playing football. I guess there are many more people who think negatively about women playing handball without having watched them play.
My tip for you is this: go to one of the games and watch them. When I saw it live the first time, the speed of the game was really surprising to me. Men´s handball is of course more somantic, but the passion in women´s handball is still equal to men´s. It´s fascinating and really exciting, especially if you cheer for friends and especially for your own girlfriend. Being not impassionate will not be possible.