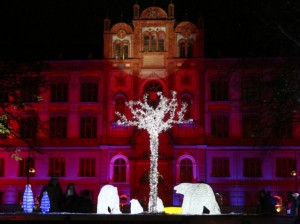 The autumn is a riot of colours this year. The trees have put on a mantle of rusty red, golden yellow and bronze brown. And the city too. With the summer breeze leaving us a warm keepsake, the mood settles down. But that's no reason for despair. Even in Rostock […] you will find some nice events to brighten up your day. Take, for instance, the 11th "Lichterwoche", which took place in the second week of november in front of "Universitätsplatz". Every year it offers a smorgasbord of entertainment over the course of six days.
 The spectacle kicked off on Monday the 5th  with a small firework show, which was followed by the traditional sightseeing walk. Everything was lit up and the university building wore a look of cheer. Luminous cubes and figures added to the bright ambience, and the gates were illumined to dispel the dark of the evening. The trees were no exception—they were glowing and parti-coloured. The city looked fabulous at night.
"Lichterwoche" is a great event for families and friends to get together and have a relaxed evening over a few cups of hot wine punch. But if you want to experience something even more splendid and merry with a dance interlude, i would recommend a visit to the festival of lights in Berlin, which is held every year in the second week of october. The most exciting item the festival of lights offers is the 'silent disco' or 'headphone party' in front of  the Berlin Cathedral.
Wondering what kind of disco that is? Here is a video for your illumination: Silent Disco
 So, are you ready to party in Berlin and spend some relaxed time, although a few weeks later, in Rostock?