Be honest, you have always dreamed of staying in an accommodation just a stone's throw away from the beach. Well, if you stay at the  Youth hostel in Warnemünde you just have to cross the street and walk a few meters (a stone's throw if you are good at throwing 🙂 ).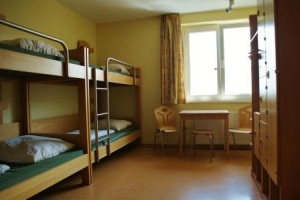 From the top floor rooms of the hostel you have a splendid view at the Baltic Sea –  enjoy  amazing sunrises and sunsets. Most of the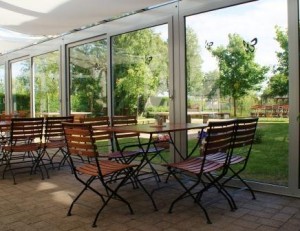 rooms (from two to six beds) include a bathroom with a shower and toilet and the hostel is a good alternative to the mostly overpriced hotels in Warnemünde. The prices depend on your age and the date of your stay. Juniors (up to 27) pay 25,50 € during the peak-season, including breakfast. The youth hostel is not only for travelers but also for school kids being on a class trip. Therefore, they offer lunch and dinner as well which can be ordered by anyone for an additional charge – or just get a sandwich and enjoy your meal on the beach.
In the common room you can play pool, watch TV, or just play one of the board games like monopoly, frustration or activity which you can borrow at the reception. There is even a playing room in which children could easily spend hours. Outside you can play table tennis or have a BBQ.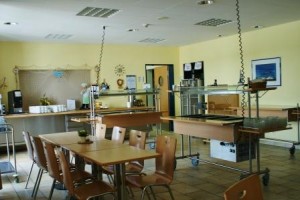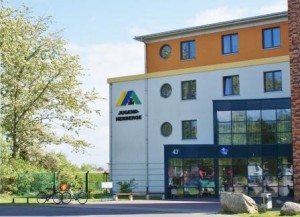 The youth hostel is a bit outside of Warnemünde but it is still easy enough to get there. From Rostock you catch the train (S-Bahn 1 or 2 to Warnemünde) and get off at "Warnemünde Werft". From there you cross the street to the bus station where you can get on the bus 36, 37 or F1 to Warnemünde Strand. The moment you get off the bus you will already get a first glimpse of the rather massive looking building. But don't let that first impression get to you – the inside looks bright and welcoming. The staff is very friendly and willing to provide you with any information which will make your trip unforgettable. 
So, if you always wanted to know how it feels like to wake up and not only smell and hear the sea, but actually go to the beach in three minutes to have a nice morning stroll: stay at the youth hostel in Warnemünde!
By the way: The youth hostel belongs to the DJH (German youth hostel organization) which has more than 500 hostels all over Germany. If you become a member, you have to pay an annual fee but you will pay less every time you stay in one of the DJH hostels.