Are you travelling together with your boyfriend/girlfriend? And are you looking for a romantic place to spent your time with each other without having to share your bedroom with 6 other travellers in a dorm room? (Believe me, I know how it is to share your room with lots of other peoples! – I did it for half a year while travelling through New Zealand and Australia –  and it happens sometimes that you need your privacy! ;))
Well, I've got the perfect solution for you!
I spent Whitsuntides (3 wondeful days) in the so called secret capital "Binz" on Germany's biggest island Rügen.
But what makes Binz so attractive? While planning this trip with my boyfriend I thought: "We are young people. Is that the right choice – a trip to Rügen? Aren't there just old people? Isn't that boring?" But as you probably guess (otherwise I wouldn't write about it, right? 😉 ) I was wrong! I was surprised how many young people I met there, so I felt very comfortable.
We stayed in the "Villa Sanssouci" – yes…in a villa! 😉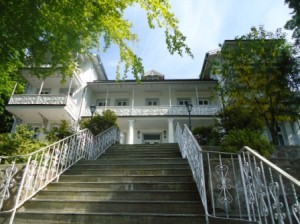 You must probably ask yourself how students can afford such a thing. But don't go there yet. It isn't that expensive. At first I thought so too but you pay only 55€ for 2 persons per night. And that's a really good price for the offer: a modern furnished apartment with a bedroom, living room with flat-screen TV, small kitchen and a balcony with a breathtaking view at the "Schmachter See" (a beautiful lake).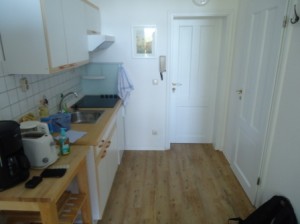 There are 15 apartments in this villa. I can definitely recommend it!
Just have a look at the pictures and convince yourself! 🙂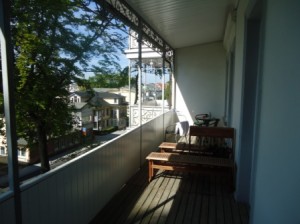 I liked it and I enjoyed it very much. But what can you exactly do in Binz? We already solved the question of accomodation. Of course you won't find that much action you will experience in a city like Rostock but if you like to enjoy a few relaxed daxs together with your love you probably don't need that much action! 😉
You can do a little boat trip to the "Kreidefelsen" (chalk cliff) of which Rügen is famous for. The most popular chalk riff is the "Königsstuhl"
We've been there too…well at least we made it to the entrance! You have to pay an entrance fee (7€ per person). We didn't want to pay that much but that wasn't a problem….here a great tip for you: near the entrance is a tracking trio. You can climb up the chalk riff next to the Königsstuhl and on top of it you can see the Königsstuhl perfectly…maybe even better! So it's definitely worthwhile! 🙂
What else is there to do/ see in Binz? The promenade is very beautiful – one grandiose villa next to the other. The beach is very nice and neat aswell. There are lots of cafés, restaurants and small shops. And what could be better than having a sweet ice cream in a beautiful surrounding on a sunny and warm day?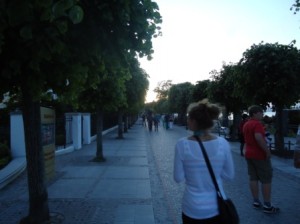 How can you end a day so that it becomes a perfect day? Watch the sun set while being on the pier! That's awesome and very romantic! 🙂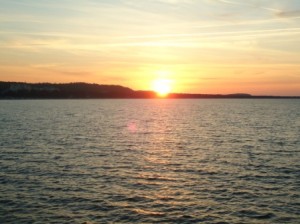 So if you two need some time together visit  Binz – you definitely won't regret it!
Greetings from
Frauke Hahnen