It's the season for strawberries!! Right after you park your car or arrive by bus, you can find a huge entrance area where you can have a first impression of what you can expect. Strawberries here, asparagus there, a big farm house next to that and tons of flowers just around the corner. There is something for all ages. And the fact you probably won't believe:  it's free!! Karl's farmers market in Roevershagen is open from 8 am until 8 pm and Karl's adventure land is open from 9 am until 7 pm.
You can start at th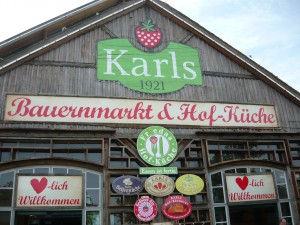 e so-called "farmers market".  Have a look at the marmelade factory, and taste some yourself with a freshly baked piece of bread. In the big store, you can buy anything related to strawberries: strawberry souvenirs made of ceramics, strawberry plates, strawberry cups, strawberry soap, strawberry candles, strawberry plasters or even strawberry bags: There's anything a strawberry heart desires. A soap kitchen and a candy factory are waiting for you as well.  Another exciting part is the "stuffed cuddly-toy animal factory" where you can build your own fluffy partner. Additionally, you can the find the world's largest tea pot collection!
Then, of course, there's the satisfying-your-hunger part of the adventure. You can find different restaurants to eat something. A piece of strawberry cake? A traditional Pomeranian meal? Or better a fresh selfmade ice cream? You'll feel welcome at "Friedas Hofküche" ("Friedas farmers kitchen"), "Tills Backhaus" (" Till's bak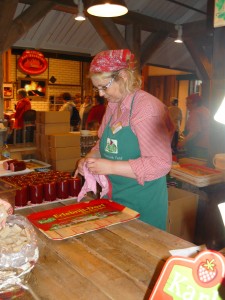 ery"), the "Schmetterlingscafé" (" the butterfly café"), the "Saustall" ("the pigsty") and many, many more. There's anything you could want for a huge appetite.
After eating should follow the fun part of the adventure. A flying cowshed, the "Tobeland" (it's perhaps "the cavort land"), or even an animal show "Am-Vieh-Theater" (difficult to translate, but  "cattle theater", the German version is similarly pronounced to the amphitheater in English, thus the name). You can also find normal playgrounds, too. Not only for kids; for adults the climbing forest or the corn maze are exciting, too.
Karl's doesn't only have the place in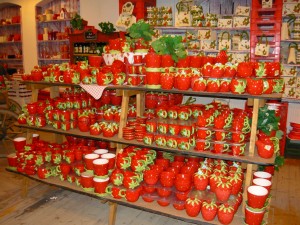 Roevershagen, but also in Warnemuende (it's called Pier 7, open from 8 am until 8 or even 10 pm), in Zirkow (Ruegen island, open from 8 am until 8 pm) and in Warnsdorf (open from 8 am until 8 pm as well).
And by the way, if you don't have the chance to visit one of these Karl places, you can also buy strawberry things online – but Karl's is the strawberry empire of Mecklenburg-Pomerania.