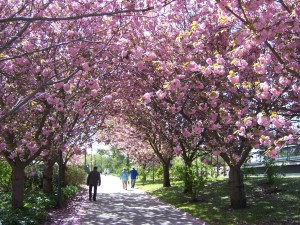 Would you like to relax? Do you enjoy silence and just want to listen to the cute chirping of birds? Do you enjoy the presence of beautiful and extraordinary plants? Then you have to visit the stunning botanical garden in Rostock!
The botanical garden belongs to the University of Rostock. It's a big area near the city centre. Many people go for a walk through the botanical garden on a beautiful day to relax and enjoy the variety of plants, and entry is fee. The garden is open from mid-March to early December and almost every day to 18 o'clock. But it's closed on Mondays.  The next stop is "Holbeinplatz". You can reach it very easy by tram (1/4/5) or train (S1/S2). 
The botanical garden offers many possibilities for something to do on a visit. In the outdoor area, you can look at different types of landscape: you can explore, for example, a dune park, a beautiful rosarium, a little highmoor, an interesting Japanese garden and many other nice areas. My favourite part of the botanical garden is the tropical house. I love it! I study biology at the University of Rostock, and one winter I had a botany course once a week there; -outside- snow and low temperatures. Inside- about 25°C and 80% humidity. No better way to get that summer feel when you least expect it 🙂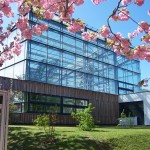 But don't think I'm an expert on or crazy about plants. I just want to tell you how much I enjoyed exploring the botanical garden, especially the tropical area. In the latter, you can learn a lot. I've seen what aromatic plants look like in the original, how they grow, and I learned a few historical facts, for instance about pepper and cinnamon. I could harvest little peanuts hidden in the ground. There is a wonderful banana bush with fresh bananas on it. By the way, do you know why bananas sometimes have these tiny black scratches on their peel? Well, it's because of the bats who try to get some of the bananas at night and who often hold on them…that looks funny ! You can also discover a little rushing waterfall, vines, insectivorous plants, and much more inside the tropical house. And if you are interested in walking through the desert, then you just have to go through a door inside the tropical house and you're there! It's a small area where you can see different kinds of cacti and one big special cactus, the so-called 'mother-in-law-seat'. This cactus has very long spikes and looks like a chair. So you should avoid to sit down.
If you're interested to visit the botanical garden, then you can go for your own or you can take a guided tour (have to be paid). Many people enjoy to have a picnic in this beautiful area. In summer you can even join a yoga class there.
I like the idea that they give you advice on wild mushrooms in autumn. Some friends of mine love to eat mushrooms. They like to go in the forest and to search for them, but unfortunately they have no idea (really no idea!) which mushrooms they are actually holding in their hands and whether they are edible or not. I hope that they will use the advisory service this year so that they can eat their own collected mushrooms.
I hope you'll enjoy the botanical garden as much as I do.