If you want to feel vacation, you can go to Warnemuende. Cruise ships are going to visit Warnemuende for a whole day, and tourists and locals can have a look at the big ones at the passenger pier. You cannot go inside of them, but it is stunning to look at them. On 23rd April the season started with the AIDAasol. It is just amazing how big they are. You can see the ships even when you are not right at the dock and they are higher than most of the buildings in Warnemuende.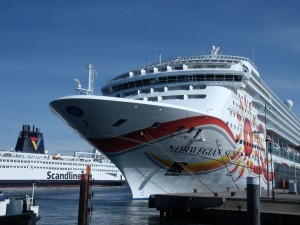 The calender is full of cruise ships this year. There will be around 180 arrivals expected this year. 40 of this 180 arrivals are going to be high-sea cruise ships of different companies like Aida Cruises, Norwegian Cruise Line, Princess Cruises, Costa Crociere and many more.
Those water based giants are also integral to so-called port parties. This is when 2,3 or even 4 high-sea cruise ships are in the port at the same time. It is an on-shore event where locals and guests celebrate and accompany the collapsing breaking waves with fireworks, music, a "towboat ballet" and moderation. There are about 5 port parties planned this year.