Good weather, sea and a light breeze – that means you go to Warnemuende, where you can find the 3rd "Sandwelt" (sand world) exhibition at the passenger pier. It is open from 31st March until the 31st October, and it is free! You can have a look at 400 tons of sand and watch artists forming their sculptures. The professional sculptors are from Germany and Eastern Europe: Poland, Russia, Latvia, Lithuania and Ukraine. The sand worlds are open from 9 am until 7 pm. Visitors can have a conducted tour of the whole area (from 11 am and 4 pm – duration: 1 hour) and look at sculptures which are 5 meters high (about 16 feet). 
The theme of this exhibi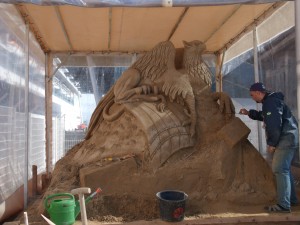 tion is "Mysterious Hanseatic" and it is all about the old hanseatic ships, crests, personalities and cities. The sculptors are using a special sand which consists of the sand itself and added by some water. Another interesting fact is that the sand has an angled corn structure and it is more binding than the Baltic Sea sand with its round structure.