Let me start this with a question: What might be one of the most common diseases amongst travelers? It could be food poisoning, because some stale groceries that were thought of as too good for the wastebin found their way into a dish. But no, that´s not what I was referring to: I was thinking of homesickness. At least for me that has been a problem from time to time. However I have found a pretty good way to get rid of it: find yourself a surrogate family at the place you´re staying. Sure to say, this is not always easy, but if you come to Rostock, let me tell you that there is a place where you can make a home: the "Hanse-Hostel".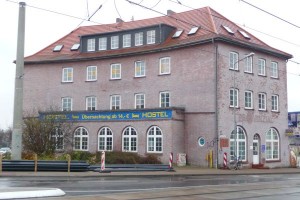 The two owners do not only own the hostel, they also live there. That really makes all the difference. Every time that I have stayed in a hostel where the person in charge also lived in the place, I found a temporary family for myself.
The place does not stick out of the range of accommodations in Rostock because it´s luxurious or fancy – the exact opposite is the case: plain rooms with bunk beds and shared bathrooms with white tiles. The only luxus you can get is the 4 € breakfast buffet in the morning or one of the private rooms that are located in a separate house just across the yard. Oh and the fact that the bunk beds are made out of wood might be kind of a plus too: At least they are not as likely to squeek as the ones made off iron.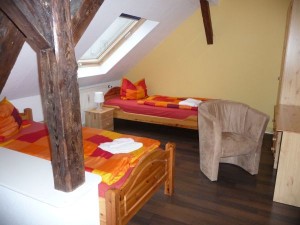 But, to be honest: who needs more than a bed when you never stay in the room longer than the night anyway?  Because if there is not a BBQ or something else going on in the common area, you can just walk out the door and find yourself in Rostock´s trendy quarter – the KTV (Kröpeliner-Tor-Vorstadt)- where you can find bars, restaurants, clubs and cute little stores to roam in.
So if this hit a nerve, make sure to book one of the 86 beds available early enough. Because the price of 14€ for a bed in an 8-bed dorm is pretty unbeatable too. All the other prices are listed on the homepage, including some more pictures.
Have fun planning your trip to Rostock !
Written by Luisa Uchtenhagen