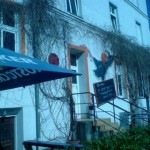 The Pleitegeier is a place with a slightly grungy atmosphere. That's what makes it special and a 'no-go' for the in-crowd. 😉
But you should definitely go there if you're a laid-back person, to fit-in you should probably have an open minded and perhaps a little crazy personality!
Last time I went there, unfortunately it was too cold to sit outside in the rustic pub garden, but the inside easily is able to keep up. But if you go inside, don't just sit down and wait, because nothing would happen… 🙂 You get your drinks directly at the bar, yes, you have to carry them yourself, therefore it's faster and you can have a little chat with the bartenders and that's a good thing as they're very outgoing and fun!
When I go there, I usually take a seat in the smoker's lounge, the wooden furniture makes it easy to relax and linger over a bottle of cold beer or a mixed drink. But don't even ask for a beer mixed drink. You will just get the answer: "We only have REAL beer!" It's just not the right place for that kind of stuff 😉
BUT it's the right place to order an 8cl Havana mix for 5€!
In the smoking area there's also a large TV hanging on the wall, but when I'm there, they always televise sport, mostly football… which is not too interesting for me, but I wanted to mention it, in case it has an effect on the decision of anyone. As it is a lively place for Hansa, German League and European Games. Well… I hope it doesn't have the effect on girls, that they don't want to go there with their boyfriend because they will be lacking in attention. You might want to consider taking another non-football friend.
If so, just go downstairs: there you have the possibility to play darts or table football.
If you're looking for a pub that is a little filthy, has a lot of character and is not to be found at every corner in every city, you should go there! No matter if you only take a quick drink before going to a party or spend the whole evening, think about going there, your friends will be grateful that you've found this spot 🙂