Got hungry while reading Anne´s blog " rostocks-finest-holiday"  about the Christmas market? No problem—let me take you for a spin through the best stands for drinking and eating , all recommended by my good self and with a little help from my friend. 🙂

Okay, let's start with the food. At the market, you will find a wide range of all different types of food and it can be really tough to make the right choice…
If you prefer something sweet, then you should definitely try the Lila Mutzen stand in the Lange Str. next to the Galeria shopping center. Mutzen are pastries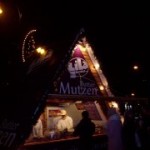 , baked in oil and dusted with sugar powder—a must have for the German Christmas season! For 2€ you get a small portion ( which is still enough for two) and a big portion for 3, 50€.
On the way to the next food stand, just take a short visit to "Janny´s Eis shop" in Lange Str. You can get a mulled wine for just 1 €!( Normaly you have to pay 2-3 € for one cup)– it may be not the best, but it´s a good and less expensive way to start the mulled wine tour.
Turn left and leave Lange Str. behind you. You´ll be on your way to the best mulled wine stand—the Weingut Misskam. It´s in front of the TKMAXX shopping cente,  and it´s made from a great red wine. One cup costs 2€ and it´s absolutely worth it!
If you go straight ahead, you will come to "Neuer Markt". Turn right, and you will find something you really should taste—Langos and a Bread roll with feta cheese.
Langos is a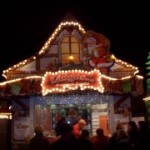 is a Hungarian food speciality, a deep fried flat bread served with all the topics you could want— from the classic one with sour cream and cheese  to the sweet one with Nutella. It depends on what you order, but prices start at 3€ and go up to 5€. Next to it, you will find the stand where you can get the bread roll with feta cheese – all vegetarians will love these!
If you love sausages, then you should try the ½ meter's sausage for 3, 50€. A lot of stands sell them, and they are very good at each of them.
After all the food, you may need another muddle wine, or if you prefer a hot chocolate with amaretto or a non-alcoholic version of it, you should pass 3 stands after the feta stand and you´re there Rostock Klönstube. They serve a wide range of all different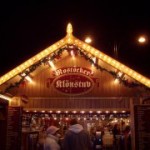 types of hot punch and hot drinks—very hard to make a decision…
I hope I helped you got some expressions where to eat and to drink. These stands are my favourites and ones I think you shouldn't miss, but gain your own experiences, try as many different stands as you like, enjoy the special atmosphere, and don´t forget to pick up sugar roasted almonds on the way back home 😉
Oh, I forgot to tell you: Every Wednesday it´s "family-day" which means that you save a lot of money on some stands and roller-coasters — just keep your eyes open, and most importantly have fun!