Want to visit Rostock in winter and don't know what you'll see and do there?
One nice thing to see in november is the Lichtwoche ("light week") which has taken place since 2001. Actually and to be cynical, the "light week" is a kind of advertisement for Rostock's energy supplier(s); nevertheless it is great to see the light shows in Kröpeliner street and to enjoy the programme during this week. There are different light shows: some of the buildings in Kröpeliner street appear in different lights and colours and there are stands with e.g. polar bears and penguins just created with fairy lights.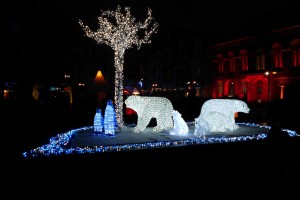 During this week, Kröpeliner street and particularly the Universitätsplatz are full of lights and colours, and there are many highlights for children: there is a big blue tent where they can play while their parents can have a delicious mulled wine or eat something like sausages or steaks. Besides, there is a Laternenumzug (walk with lamps), and on friday and saturday there is a programme where many artists sing and dance on a stage.
Most people don't come to Rostock just for the light week, but if you are in or near Rostock anyway, you should definitely visit it. The best thing is that there is a wealth of shops and restaurants in the Kröpeliner street which enable you to visit the light week and go shopping at the same time. There are shops where you can buy clothes, bags and shoes, and some restaurants where you can for instance get Italian or Chinese food, or steaks. Besides, there are two smaller shopping centres – the KTC and the Rostocker Hof. In the latter one there is the "Café Milano" which offers very delicious self-made ice-cream – it's definitely worth a visit.
The light week also has a bit of a Christmas fair atmosphere because there are some stands where you can buy mulled wine, Glögg (which is a special kind of mulled wine you should definitely try), sausages and "Mutzen" (funnel cakes – imagine little, delicious  doughnuts with icing sugar). At the end of the light week on saturday evening, there is a firework display and if you want to see it, I recommend you to be punctual because the place can get overcrowded.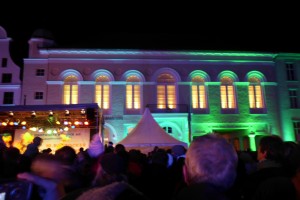 The light week is in the centre of Rostock, and therefore you can easily get there with the trams 1,2,5 and 6 from the stops "Steintor" or "Doberaner Platz", and get off at either "Neuer Markt" or "Lange Straße". If you need to go by tram, you can visit the homepage of the RSAG and it'll tell you which tram you have to take when to get where you want.
I hope that you have already enjoyed the light week or will be able to enjoy it next year. If you plan to stay in Rostock for several weeks, I can recommend you to visit the Christmas fair which opens about two weeks after the light week and can be found in the same area. To get an idea of the atmosphere at the light week, you'd see my video.