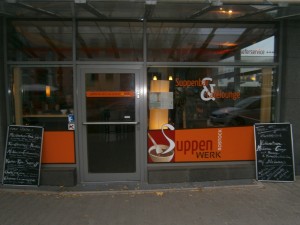 "… Oh the weather outside is frightful, but the fire is so delightful…"
Just imagine how delightful that would be with a nice bowl of warm, tasty soup!
Sounds good? Then I strongly recommend the  "Suppenwerk"    in Doberaner Straße 111
The homemade soups contain fresh organic ingredients and a small but friendly atmosphere make your meal very enjoyable. You'll find a menu that changes on a weekly basis with exotic, fancy but also the old favourites soups like your granny cooked.  The moderate prices top the meals off ideally.  Small hint: ask the team for a bonus card — you'll pay for nine soups and get the 10th free!
Not really into soups? No Problem, the Suppenwerk offers a daily special of other meals every Tuesday and Wednesday. I tried a carrot lasagne (not the standard ingredient you'd expect for a lasagne) a few weeks ago and it was just terrific!
Don't want to leave the bed but wanna have a soup? Even in this case its no problem, they deliver the soups and daily specials anywhere within a sensible distance of the city centre! With every meal, you get some exclusive "Suppenwerk" bread enriched with different herbs fitted perfectly to the meals.  And how about an apple-mint-lemonade to drink? You definitely should try it!
If you are as stoked as I am, you could also engage the catering service for parties or events.